By: Christian Gómez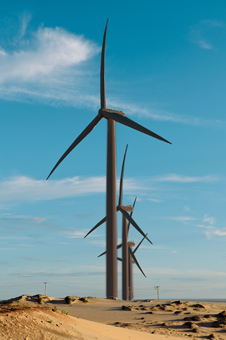 The wind power industry in Latin America is still young. Regulatory frameworks have not promoted growth in the sector. Cumbersome licensing procedures and a lack of fixed pricing make wind energy both expensive and risky.
In this, Brazil offers a promising case study. According to Brazilian wind power group Abeeolica, 2012 was a great year for Brazil's fledgling wind-power industry. As the cost of wind projects reached new lows, installed capacity grew by nearly 70 percent and now represents nearly three-quarters of the region's output. Some 14GW of installed capacity will be added by 2020.
But serious roadblocks appeared this year. New rules have barred wind power companies from competing against coal and oil companies for concessions and have been among the factors preventing some 600MW worth of wind power in the northeast of Brazil from coming online. Utilities companies also blame a lack of financing and a long environmental licensing process for the fact that many projects remain unconnected to the grid. At the same time, low energy prices have stifled further wind power development. Even so, ongoing support from the state-run development bank BNDES, which has financed 62 percent of wind projects since 2009, is expected to boost wind power's role over the long term, particularly as offshore plants—the next frontier for wind energy in Brazil and the region—become viable.
Read about solar energy.
Read about geothermal energy.
Christian Gómez is director of energy at the Council of the Americas. Follow him on Twitter at @cgomezenergy.
Photo: Miguel Caibarien/Corbis.