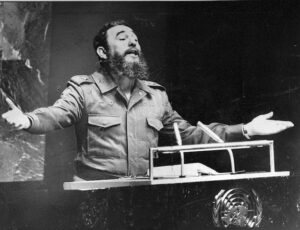 Simon Hall's "Ten Days in Harlem: Fidel Castro and the Making of the 1960s" recounts how a brief trip put the Cuban leader on the world stage.
The announcement by Havana that it would release five political prisoners "who would travel to Spain with their families," and another 47 during the next three or four months, has been credited to efforts by Spanish Foreign Minister Miguel Ángel Moratinos and Cuba's archbishop, Cardinal Jaime Ortega. But neither Cardinal Ortega, nor Minister Moratinos would … Read more
If the new Cuban government has a remark­able resemblance to the old, that's because they are one and the same. No real change has taken place in Cuba. Yet. The same group that accom­panied Fidel and Raúl Castro since their days in the Sierra Maestra—all now senior citizens—remains firmly at the helm of government. They … Read more
Reading Time:
2
minutes
On February 19th, Fidel Castro made it official: he was resigning the presidency and ending his 50-year reign over Cuba.