By: Adam Frankel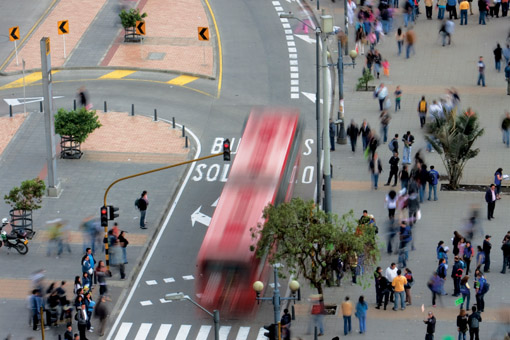 Providing accessible and environmentally sustainable transportation is a key challenge for cities around the globe. According to the New York–based urban planning firm Arup, 97 percent of the increased demand for fuel comes from the growing number of cars worldwide, expected to reach 2 billion by 2020. That figure accounts for almost a quarter of global CO2 emissions and over 1 million traffic-related deaths each year.
Cities across the Americas—whose transport problems include severe congestion, pollution and traffic accidents—have been developing new public works projects and technological innovations to meet the challenge. Throughout the region, cities are rolling out improved bus and rail systems, expanding pedestrian zones, promoting cycling, and ensuring that public transportation remains physically and economically accessible to all residents. But local efforts to reduce commute times and environmental impacts have produced widely inconsistent results.
The regional standard remains the southern Brazilian city of Curitiba, capital of Paraná state. In 1974, this midsize city inaugurated the world's first Bus Rapid Transit (BRT) system, a network of bus-only lanes and handicap-accessible commuter platforms designed to serve as a low-emission, cost-effective alternative to an expensive underground subway system. Although the system now faces challenges from rising levels of inequality and growing opposition to the city's use of public funds for 2014 World Cup preparations, it currently accounts for 60 percent of Curitiba's urban transportation needs. BRT provides trips to 2.7 million daily riders, and logs 275,000 miles (442,570 kilometers) per day.
Buenos Aires reports more mixed results. The Argentine capital has struggled to improve its ailing commuter rail system following a February 2012 crash that killed 50 people and injured over 700 others. Although a second (but not fatal) crash in October 2013 aroused passenger anger, the municipal government has taken bold steps toward reducing commute times and promoting environmental sustainability. On the drawing board are plans to create one of the world's largest urban pedestrian zones, develop Argentina's first BRT system, and reduce fuel use by 20 percent. The municipality also hopes to reduce daily bus passenger traffic by 5 percent through bike-sharing programs and expanded bike lanes.
Bogotá has had more success. The city rolled out its own BRT system in 2000, and has since reduced commute times by up to 32 percent, lowered the number of traffic fatalities by 89 percent, and pushed down annual carbon emissions by as much as 300,000 tons per year. Urban transportation experts say the system primarily benefits low- and middle- income residents, who make up a majority of Bogotá's population and now enjoy greater access to the city's financial center. Yet the system has also encountered problems. Major protests erupted in March 2012 over high fares, long wait times and overcrowding, and the city has struggled to live up to deadlines for expanding coverage of the metropolitan area. 
Adam Frankel is a contributing blogger to AQ Online. He is a human rights researcher specializing in race, gender and sexuality issues in Latin America. Follow him on Twitter at @AdamJFrankel.
Photo: Tyrone Turner/National Geographic Society/Corbis