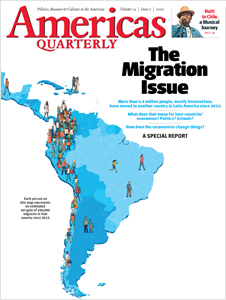 Special Report
The pandemic only increases the need to welcome migrants with compassion. It will be hard.
By RICHARD LAPPER
A school on the Venezuela-Brazil border offers lessons for the whole region.
By CECILIA TORNAGHI
An interview with Felipe Muñoz, the Colombian president's special adviser for the Venezuelan border.
By BRIAN WINTER
Even before the coronavirus, Peru and other countries were seeing greater xenophobia – with an uncertain impact on politics.
By EMILIE SWEIGART and LEONIE RAULS
Where are people moving? This map gives a glimpse.
By DANY BAHAR
Companies like Rappi and Uber are helping many migrants get by. But host countries can do more.
By BRENDAN O'BOYLE
A look at policies and initiatives for dealing with the influx of migrants.
By MARISOL RODRÍGUEZ CHATRUC and JUAN BLYDE
Migrant influxes can be a boon for economies, but not without political will, good technology, and some fiscal flexibility.
A look at migration's mouth-watering impact on Latin America's culinary scene.
By CHARIS MCGOWAN
With Haitian rhythms and Spanish lyrics, Ralph Jean Baptiste shows integration is possible for other migrants.
By MANUELA ANDREONI
Amid record migration, the private sector has a role – and it's a profitable one.
By ANDREW SELEE
With very little aid or experience in hosting migrants, the region is thinking outside the box.
By BENJAMIN RUSSELL
Migrants' struggles with trauma and mental health are going overlooked and undertreated.
By LUISA FELINE FREIER
Measles, tuberculosis and other diseases have made a comeback and are threatening migrants.
By LEONIE RAULS
New flows of people are opening up new remittance corridors.
By TOMÁS STRAKA
Under the Betancourt Doctrine, Venezuela became a refuge for Latin Americans fleeing dictatorship.
By SUSAN SEGAL
The fear of the coronavirus cannot cloud our moral and political duties to migrants.
Departments
By ROBERTO SIMON and EMILIE SWEIGART
Anti-money laundering and politics is a risky mix.
By LEONIE RAULS
A black activist reflects on a history-making question on Mexico's 2020 census.
Cultura
By SEBASTIÁN ZUBIETA
Innovative sounds for a spring season spent at home.
By CARLOS AGUILAR
A review of a Brazilian thriller with a socio-political message.
By GABRIEL PÉREZ-BARREIRO
A legacy of free expression in sculpture and embroidery.
By RUSSELL CRANDALL
The forgotten history of hispanic North America.