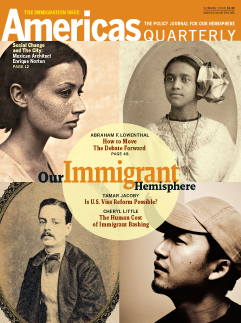 Articles:
A realistic, permanent solution to the 12 million unauthorized immigrants in the U.S. means fixing its visa system. Here's how. Full text available.
Recognizing our shared history and how other countries have adapted to immigration is the first step in confronting the challenges in the U.S.
NAFTA was and remains an economic agreement. Yet it can help establish the basis for better bilateral cooperation on immigration.
Out of California's long—and rocky—experience with immigration has emerged a quiet consensus that can help lead the U.S. out of its current dead end.
The current U.S. guest-worker system is insufficient and exploitative. Here's a proposal to protect workers' rights and provide employers with the seasonal flow of labor they need.
Immigrant bashing and tougher enforcement have a human cost. These are some of the stories.
The U.S. will have to deal with integrating 45 million Hispanic immigrants. Fortunately businesses are already stepping up to the plate.
Does patent protection prevent access to medicines in developing countries? Andre de Mello e Souza and Harvey E. Bale square off.
Jose Augusto Pereira da Silva takes his "Pig" to the private sector. Gabriela Cuevas Barron, Mexico City's youngest district chief bridges the socioeconomic differences among her constituents. Conor Bohan, a young American in Haiti, forms an NGO to help aspiring university students.
Fallacies of the anti-NAFTA attacks during the democratic primaries. In fact, the 1994 agreement made member countries more competitive.
Emily Vasquez on how economic desperation and a nefarious network of traffickers have lured Paraguayan women across borders into the sex trade.
Charticles:
Departments:
Interview (Summer 2008)

One of the world's leading architects, Enrique Norten, explains how architecture reflects cultural and social currents. Available online soon.

Panorama: Looking at our hemisphere from all directions (Summer 2008)

How do McCain and Obama see our hemisphere? Athletes to watch in Beijing; a Colombian film on immigration, "Paraiso Travel"; investment; 10 things to do in Lima; Piaui journalists challenge Brazil's publishing establishment; remittances. Available online soon.

Policy Updates (Summer 2008)

Export Processing Zones (EPZs): Jaime Granados and Jeremy Harris believe new export promotion strategies may be on the rise. Brazil innovation: Available online soon.