Reading Time:
5
minutes

A transgender refugee's personal journey is interrupted when violence forces another to begin.
Written and photographed by Jonathan Levinson
Last June, Mara Salvatrucha 13 (MS13) gang members approached Danilo Munguia, a 34-year-old transgender person, in Usulután, El Salvador, demanding that he deliver drugs for them. "I'm not one of those people," he said. "Fine," they replied, "but there will be consequences." Days later, four members of the gang broke into Danilo's home, beat him, and took turns raping him. The next day MS13 asked if he was ready to work with them. Again he said no. "Well," came the reply, "you know what's coming." Danilo moved, but they found him and abused him again.
It was after this that he decided he could no longer stay in El Salvador. An aunt in Tijuana, Mexico, told him to come and live with her. "We don't have anyone that supports us and when something like this happens, there is nothing you can do," said Danilo, who is now living in the southern Mexican city of Tapachula, a major hub for refugees crossing into Mexico from Guatemala.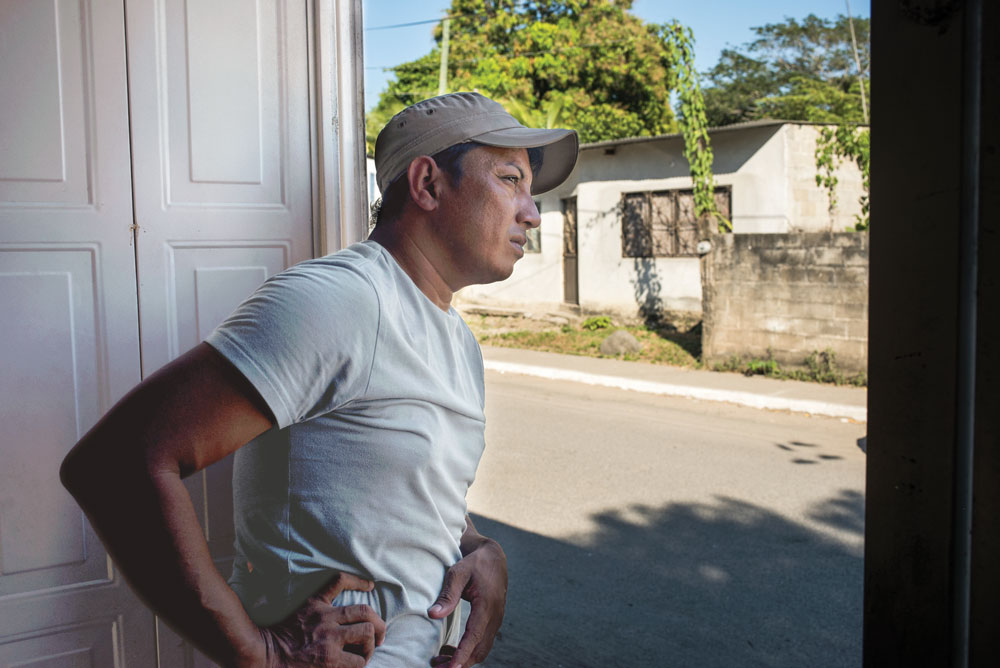 After fleeing rape and extortion in El Salvador, Danilo has found a temporary respite in Mexico, but still faces an uncertain future as a transgender refugee.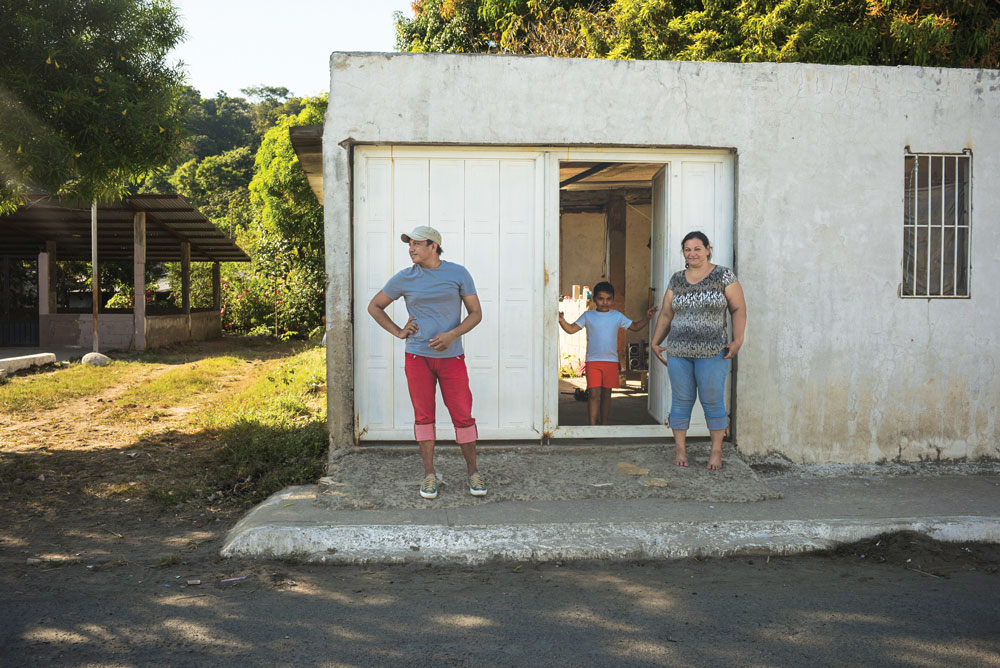 Danilo stands with another refugee and her son, who live with him. He often must leave to escape her violent boyfriend.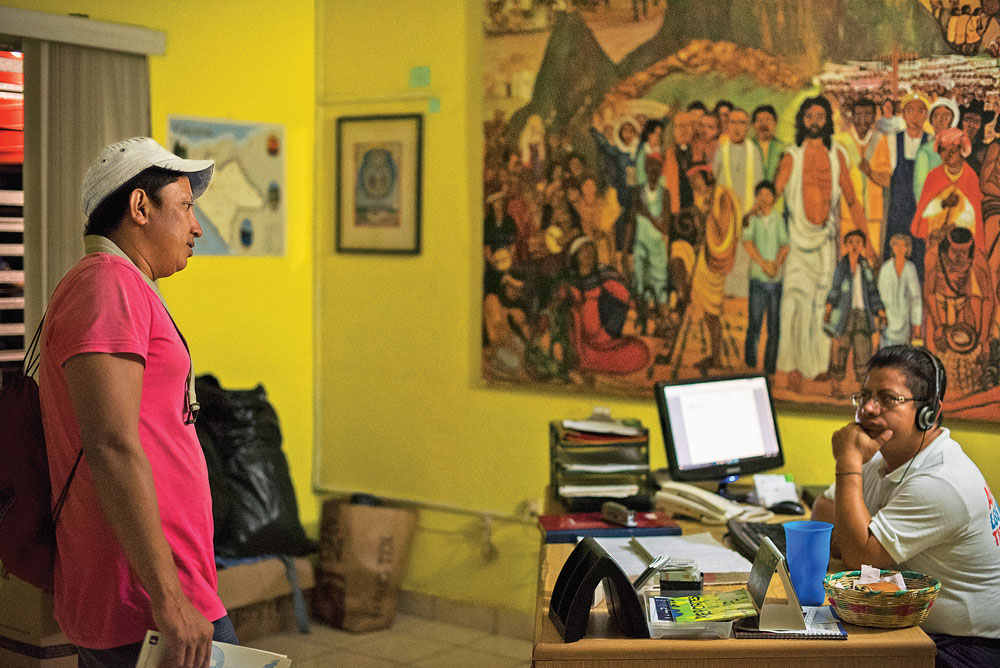 Danilo pleads for a bed at a shelter in Tapachula, Mexico.
Danilo identifies as female but used male pronouns to refer to himself when he spoke to AQ. Robbed of his female clothes, he has found it impossible to maintain his appearance traveling north. He is among the surprisingly high number of LGBT people fleeing the Northern Triangle to Mexico and the United States. In 2014, officials estimate there was one LGBT person arriving per week to Tapachula. In 2015, that number was closer to one per day.
Though Tapachula is more tolerant of LGBT people than the countries they are fleeing, it still holds considerable danger for people like Danilo, who face additional challenges as transgender refugees. Finding a safe place to sleep is a persistent concern. Shelters, their capacity already strained by the enormous numbers of people pouring into the city, have a particularly hard time accommodating transgender refugees in facilities segregated by gender.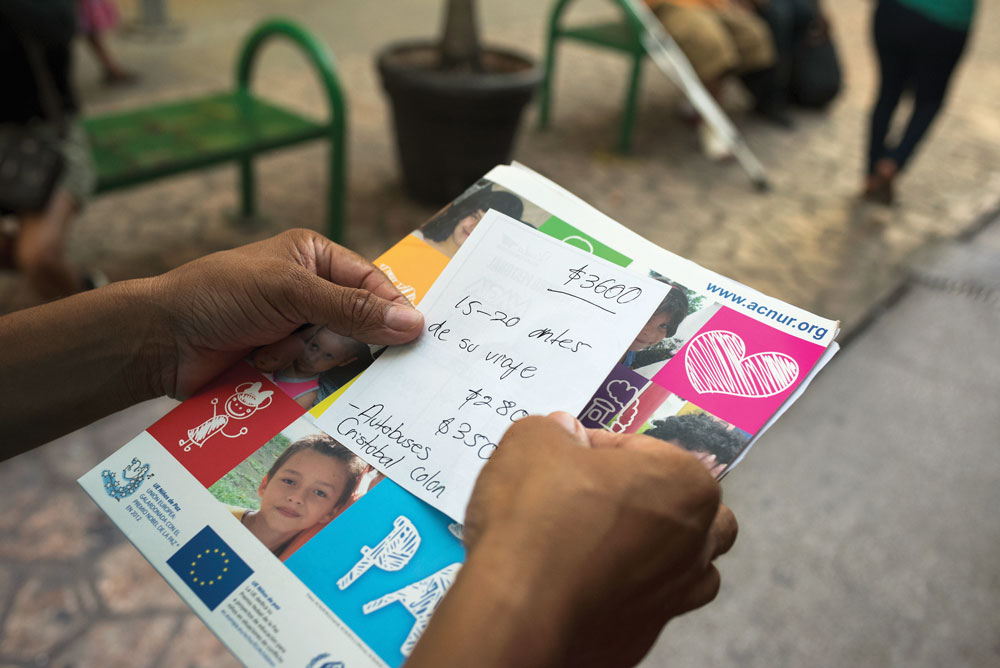 Danilo reviews prices for travel to Tijuana, but is unsure how he can afford the journey.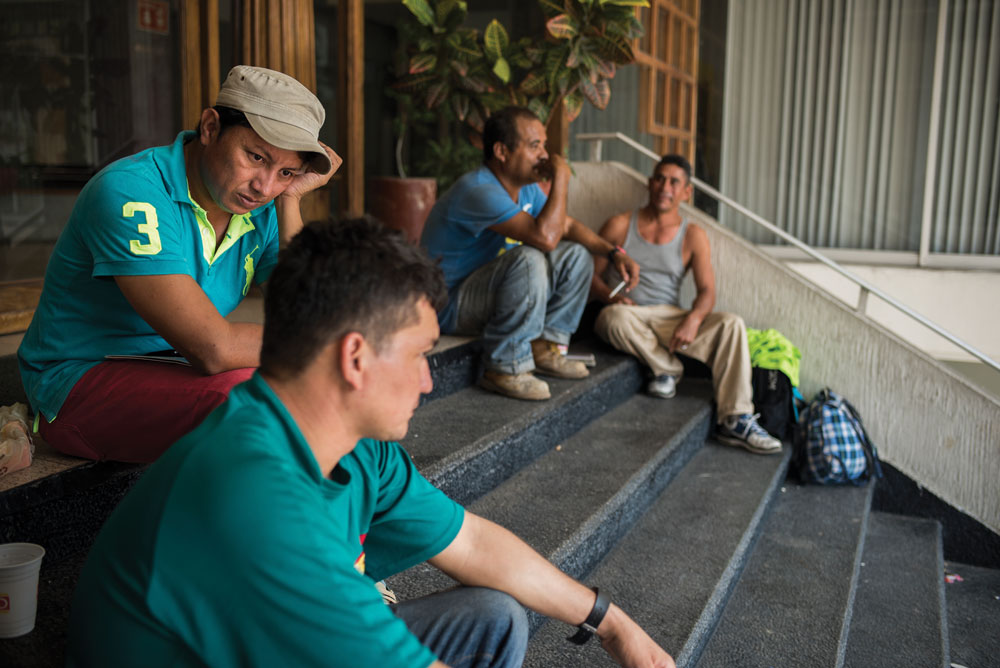 Danilo awaits a decision on his asylum application at a refugee office. He would wait for seven hours and hear nothing.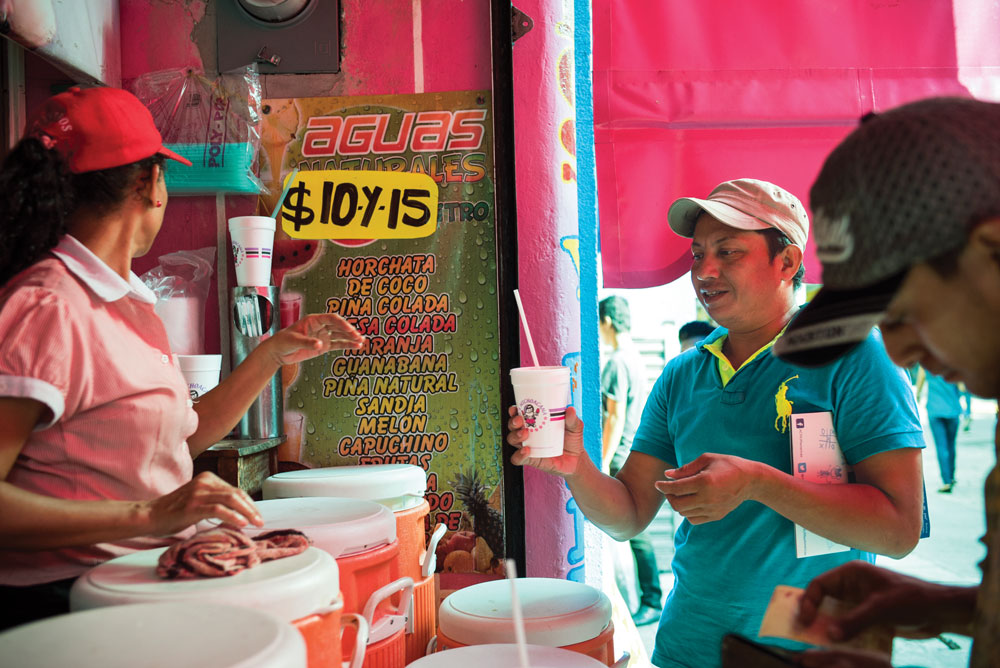 Danilo buys juice with friends and fellow asylum seekers in Tapachula. The city has garnered a reputation as a place where LGBT people fleeing violence in neighboring countries can find relative safety.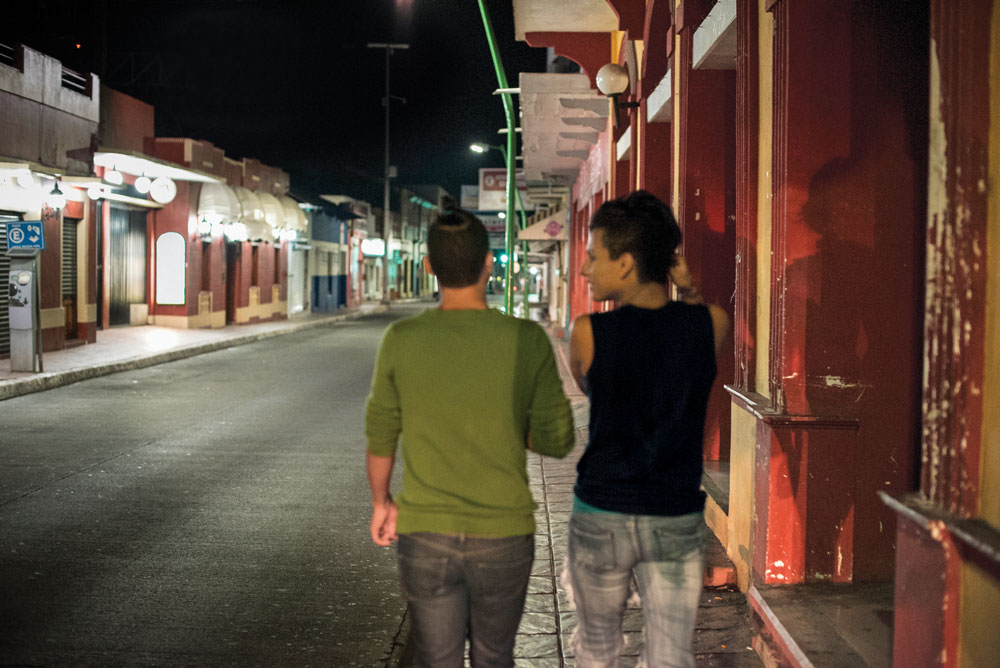 Jose (left) and Enrique, two transgender refugees from El Salvador, are both applying for humanitarian visas, an option for refugees who have experienced human rights violations. It allows recipients to stay in Mexico for one year. Refugees in Mexico face a dizzying array of options and a confusing bureaucracy.
Danilo has had to move multiple times out of fear for his safety, as he waits for the government's decision on his asylum application — a process that can take several months. At night he either sleeps on a concrete floor in a small room with three other refugees, on the sidewalk outside Tapachula's Belén shelter or, if he's lucky, on a bed inside.
The danger comes from all sides, too. Jose, a transgender refugee from El Salvador who requested we not use his last name, says he was beaten by guards at a National Migration Institute (INM) detention center in Tapachula, where he spent 104 days waiting for the results of his asylum application. Rosember López Samayoa, the director of Una Mano Amigo, an organization that does HIV outreach to Tapachula's LGBT community, says these complaints about INM are very common. According to López, the INM lacks adequate accommodations for transgender individuals; violence, rape and demands for sexual favors as the price of better treatment are all commonplace.
As he awaits a decision on his asylum application, Danilo spends his days trying to "forget my life" which, he said, "is like a book that always reads the same." He dreams of getting to Tijuana and going to cosmetology school. But he confesses that he may end up working for a man he met on Facebook who recruits for adult movies in Tijuana. "Maybe just in the beginning, to make some money," he said.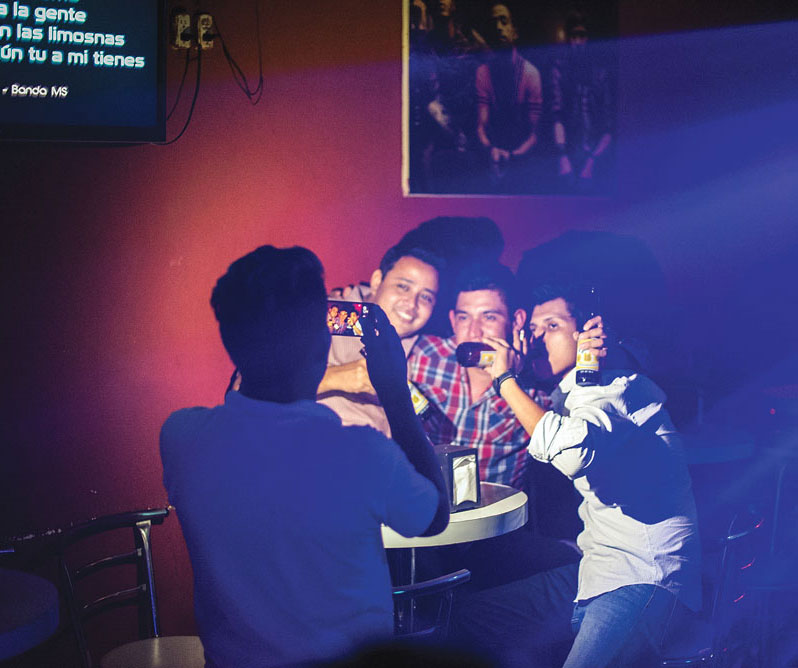 Willian Ochoa, a 24-year-old who fled sexual abuse in Honduras three years ago, snaps a photo of patrons at a karaoke bar. For LGBT refugees, Tapachula is a relatively liberal and tolerant place compared to the Northern Triangle cities they arrive from.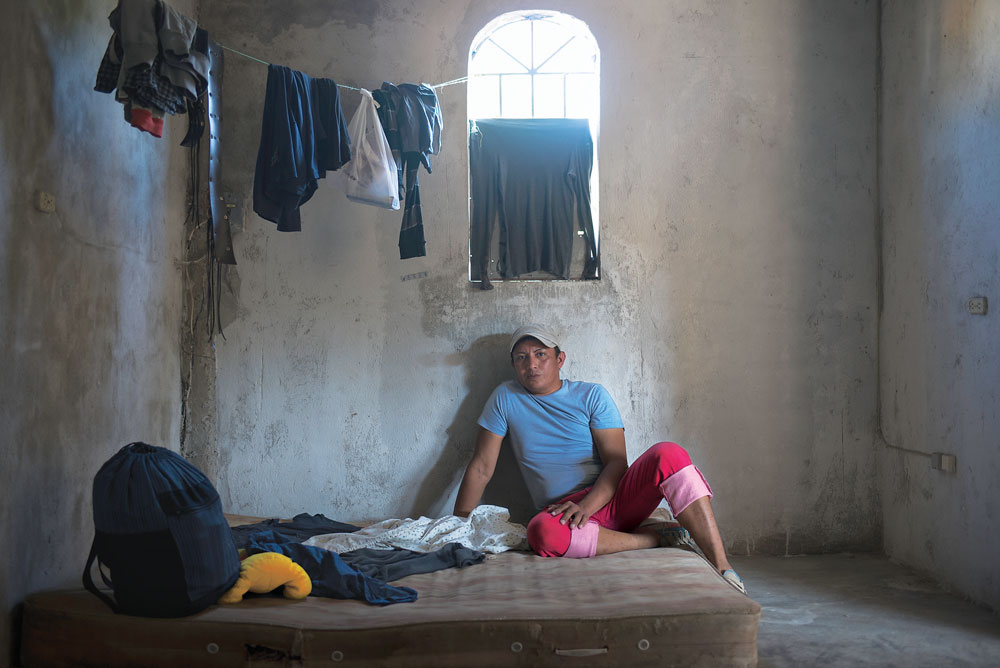 Danilo sits in the one room he shares with three other refugees with his few belongings. All his female clothing has been stolen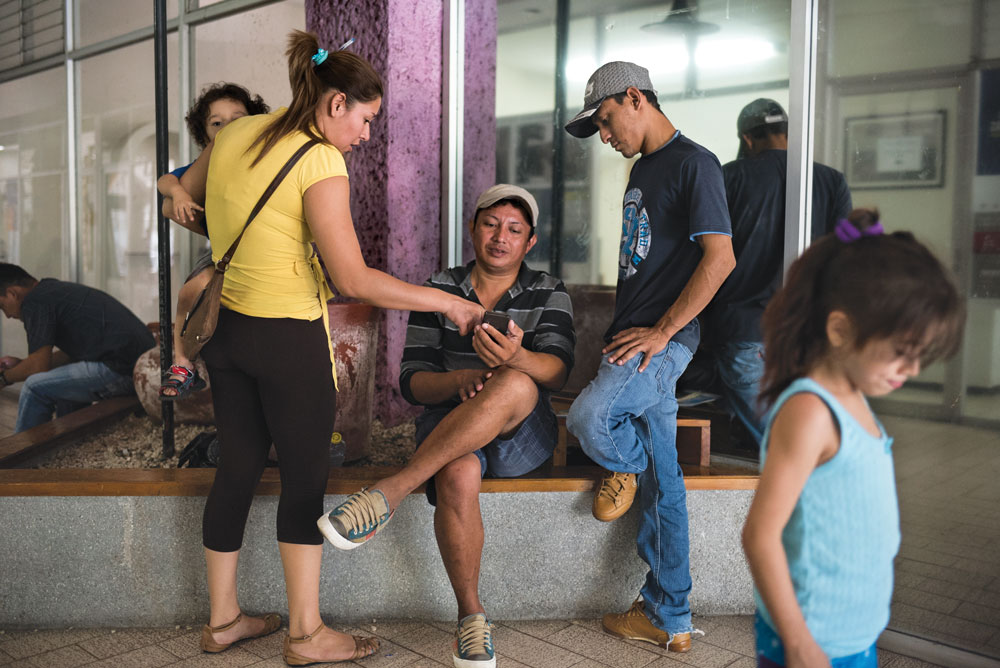 A woman shows Danilo photos from cosmetology school, which Danilo dreams of attending when he makes it to Tijuana.
Jonathan Levinson is a multimedia journalist based in Mexico City.
A U.S. army veteran, he has a master's in international affairs from Columbia University.