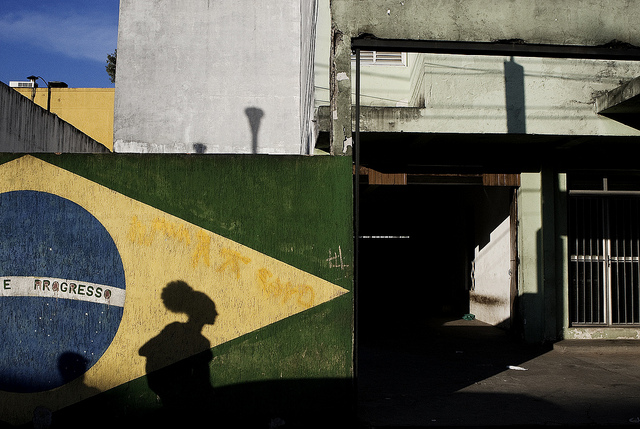 Soccer fans from around the globe will converge on Brazil this June for the 2014 FIFA World Cup, which has generated headlines not only for its promise of a world-class competition between 32 elite soccer teams, but for a stream of challenges ranging from protests and strikes to stadium delays. It also represents the first World Cup since 1978 to be held in South America, and the first since 1950 to be held in Brazil, the only country in the world to win five World Cup titles.
What country will come out on top this year? Can the 12 Brazilian host cities preparing for the tournament deliver a successful World Cup, and can the Brazilian government address citizens' longstanding concerns about corruption, displacement, transportation and expenditures? Check back for updates on AQ's 2014 World Cup page to find out.
Image: courtesy of Flickr user Gustavo Gomes.
On This Page:
---
World Cup Unifies Brazil in Joy, Despair
by Stephen Kurczy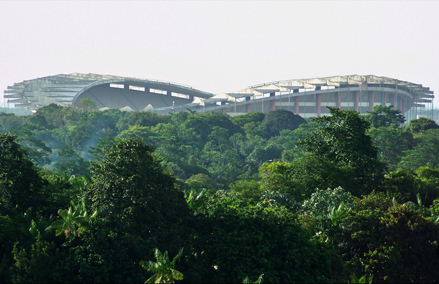 Photo: Junior Oliveira (flickr)
In 1945, the Brazilian football clubs Remo and Paysandu took the pitch here in Belém, gateway to the Amazon in the northeastern state of Pará. One of many face-offs of their famous century-old rivalry, the match became significant for more than just the 7-0 drubbing that Paysandu inflicted. It would leave a deep scar on Remo's psyche.
The score still haunts Remo supporters such as Fabrico Bessa, even though his team has since bested Paysandu many times, including this year in the annual Clássico Rei da Amazônia (King of the Amazon Classic).
---
Brazil Crashes out of the World Cup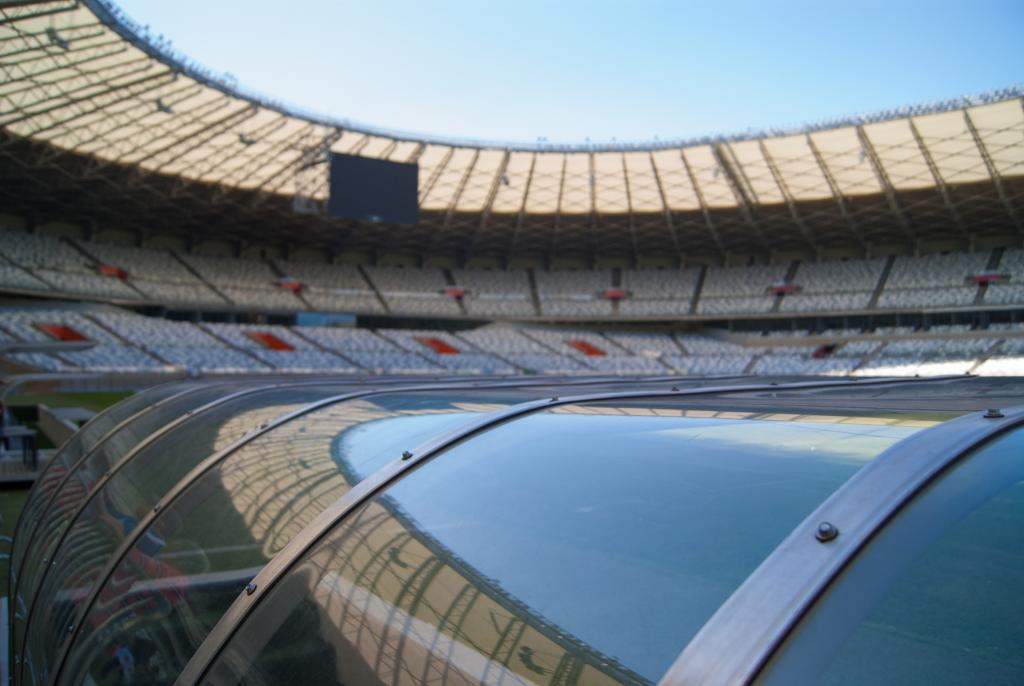 Photo: Hugo Martins Oliveira (flickr)
Brazil was routed 7-1 by Germany during yesterday's World Cup semifinal match in Belo Horizonte, marking the South American nation's biggest defeat in the history of the tournament. Neymar Jr., Brazil's star player, was out of the lineup with a fractured vertebrae from Friday's physical clash with Colombia. But more than their striker, the seleção sorely missed team captain and defensive leader Thiago Silva, who received a second yellow card on Friday and was prohibited from playing against Germany.
---
El fútbol que nos hace soñar (y matarnos)
Por Jennie Manrique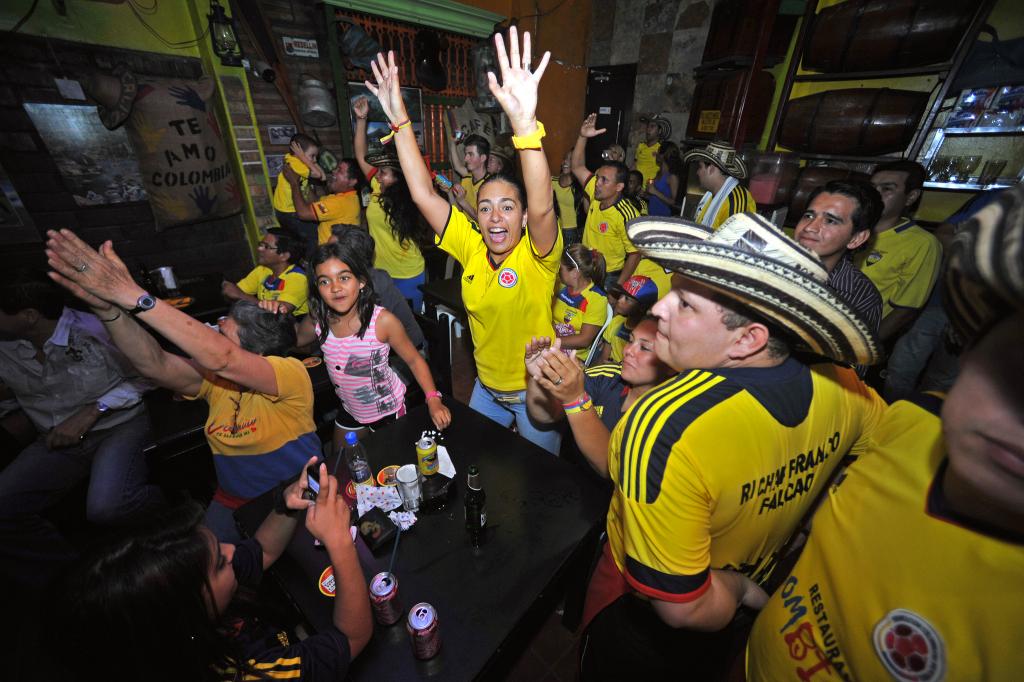 Photo: Agencia de Noticias ANDES (flickr)
Cerca de 57 mil colombianos han acompañado desde las tribunas a la Selección de fútbol y se han deleitado con los 11 goles que tienen al país en los cuartos de final de la Copa del Mundo, mientras un sentimiento de euforia e histeria colectiva inunda a la patria. Grandes empresarios y grandes endeudados que empeñaron hasta la casa para poder ir a Brasil, se encuentran entre ese público futbolero conocedor o ignorante del deporte de masas, pero capaz de aglutinarse ante ese proyecto de nación en que se ha convertido el fútbol.
---
Eleven Arrested in World Cup Ticket Scalping Operation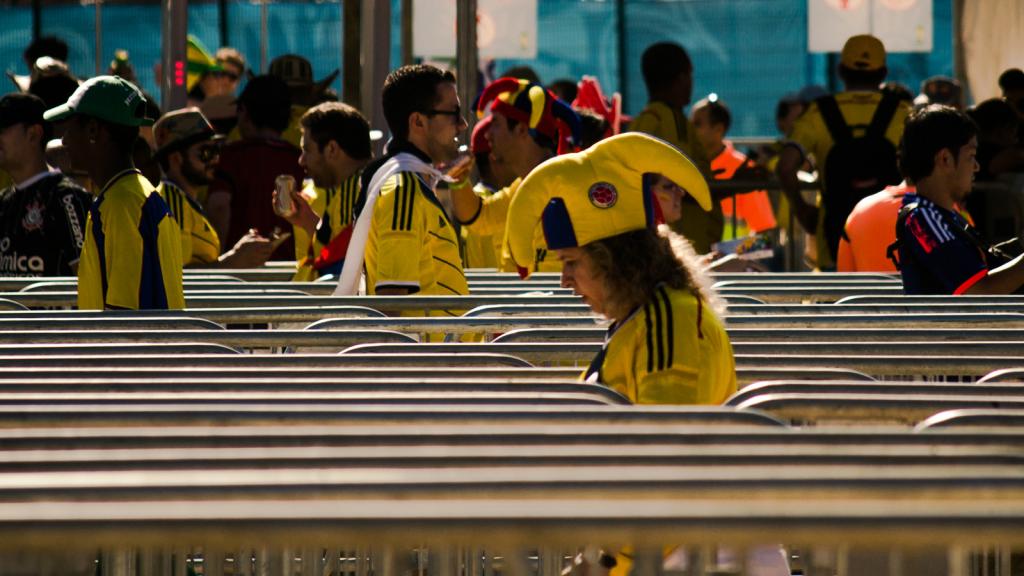 Photo: paulisson miura (flickr)
Police dismantled a World Cup ticket scalping operation with the arrest of 11 individuals in Rio de Janeiro and São Paulo in a raid Tuesday night. After a three-month investigation, twenty search warrants were granted and police raided a mansion in Santa Mônica, Barra da Tijuca, seizing close to $10,000 reais and 100 World Cup tickets that were originally meant for NGOs, sponsors and national delegations, as well as computers, cell phones and documents used in the operation.
---
Get the Numbers: Latin America and Europe in the 2014 World Cup Quarterfinals
By Rachel Glickhouse and Elizabeth Gonzalez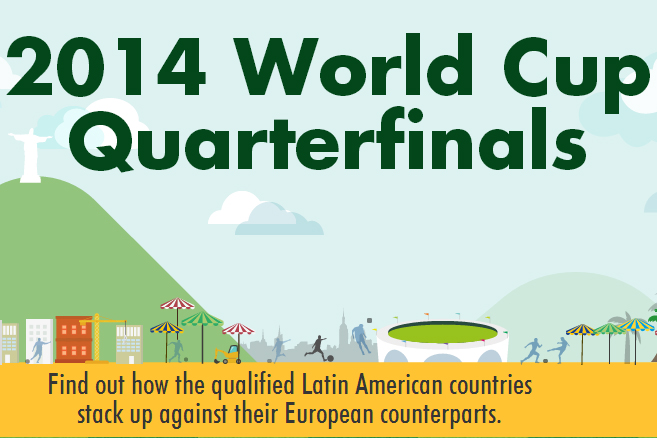 Illustration: AS/COA
After another round of eliminations, eight soccer teams remain in the World Cup, in some cases pitting Latin America against Europe in the quarterfinals. With four teams from the Western Hemisphere and another four from Europe left, AS/COA takes a look at the numbers beyond soccer, comparing the Old World with the New World.
---
In World Cup, on to Round Three…
By Eric Farnsworth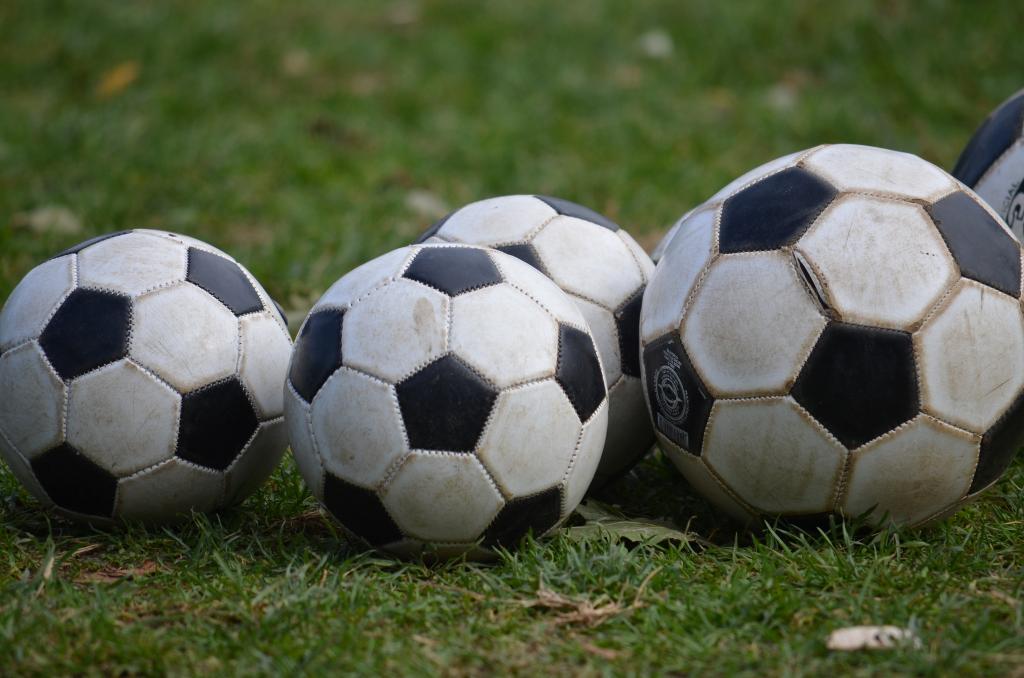 Photo: Joe Shlabotnik (flickr)
With the second round of the World Cup soccer tournament concluded the main storylines have been the success of teams from the Americas, the early exit of previous stalwarts England, Italy and Spain, the relatively high number of goals, and—at least in the United States—the sudden realization that soccer actually has a strong and passionate following. The dog that hasn't barked? The pre-tournament meme about Brazil's unpreparedness to host such a large event and the crime and street protests which were to have shut down various venues. Clearly, that's not proven out. With two weeks to go, some commentators are already wondering aloud whether this will be the most successful World Cup of all time.
---
Mexican Culture and the World Cup
By Arjan Shahani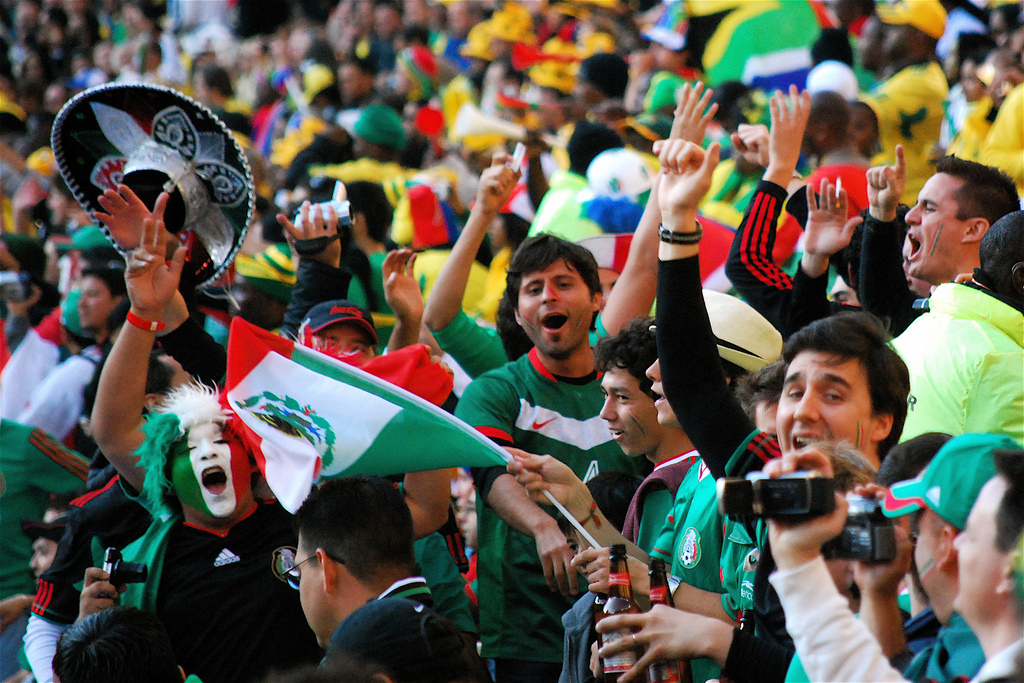 Photo: Celso FLORES (flickr)
The World Cup is a lot more than just soccer. It is a global celebration and in many regards, a showcase of cultures, not just from the host country but from all nations participating in it.
While Mexico did not become the World Cup soccer champion in Brazil, international media sources did call it the champion of social media, as one of the nations with some of the most social media chatter and memes during the tournament. The flourishing of social media has made Mexico renown in all corners of the globe, in ways that traditional media has not.
---
As Americans Take Pitch in Recife, Other Stadiums Already Turning Off the Lights
By Steven Kurczy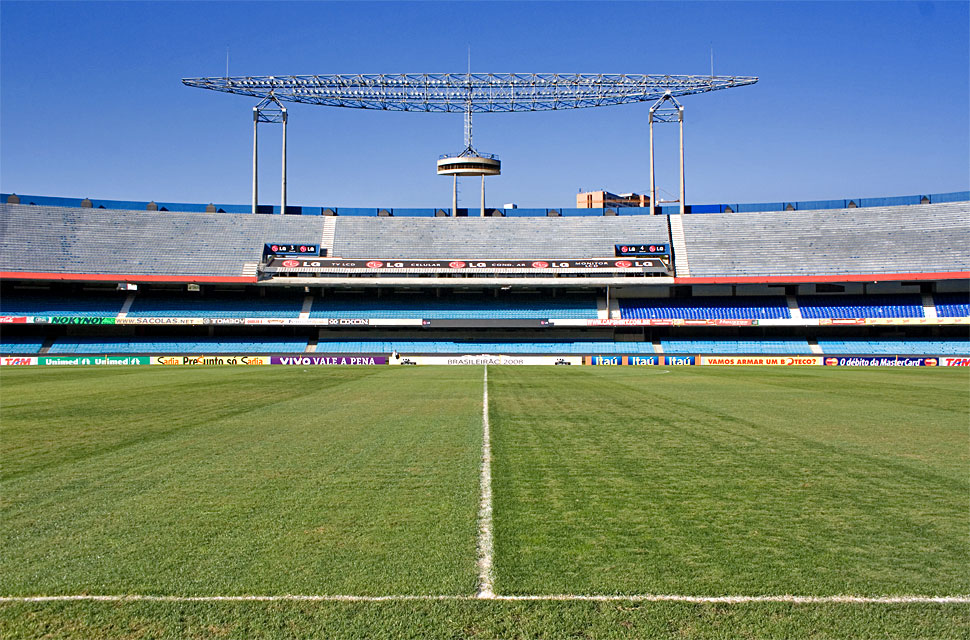 Photo: Fernando Stankuns (flickr)
As Team U.S.A. took the pitch today in Recife for what might be its final World Cup match, some other Brazilian cities were already turning off the lights on their newly built stadiums now that the tournament is halfway over.
Here in Manaus last night, the final crowds exited the still-shiny $300 million Arena da Amazônia after the Honduras-Switzerland match, bringing a close to the biggest event that ever has—and likely ever will—come to the Amazon rainforest. With no more matches scheduled here or in Cuiabá, Natal, and Curitiba, public scrutiny is now turning to what will become of these mega-investments.
---
Uruguay's Suárez Faces Possible Suspension for Bite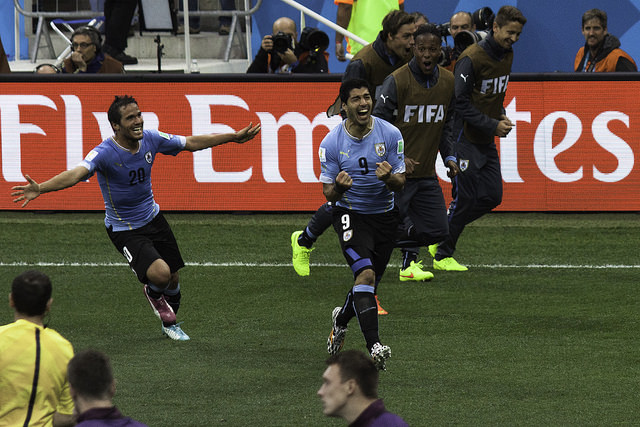 Photo: Jimmy Baikovicius (flickr)
FIFA announced early Wednesday that it is launching an investigation to determine whether Uruguayan striker Luis Suárez bit an opposing player during Uruguay's World Cup match against Italy on Tuesday. FIFA has given the Uruguayan national team until tomorrow afternoon to present evidence, and announced that it would issue a ruling before Uruguay plays Colombia in the Round of 16 on Saturday. Suárez could face a ban from international competition for up to 24 matches, or two years.
---
The "Zebras" of the Americas
By Flora Charner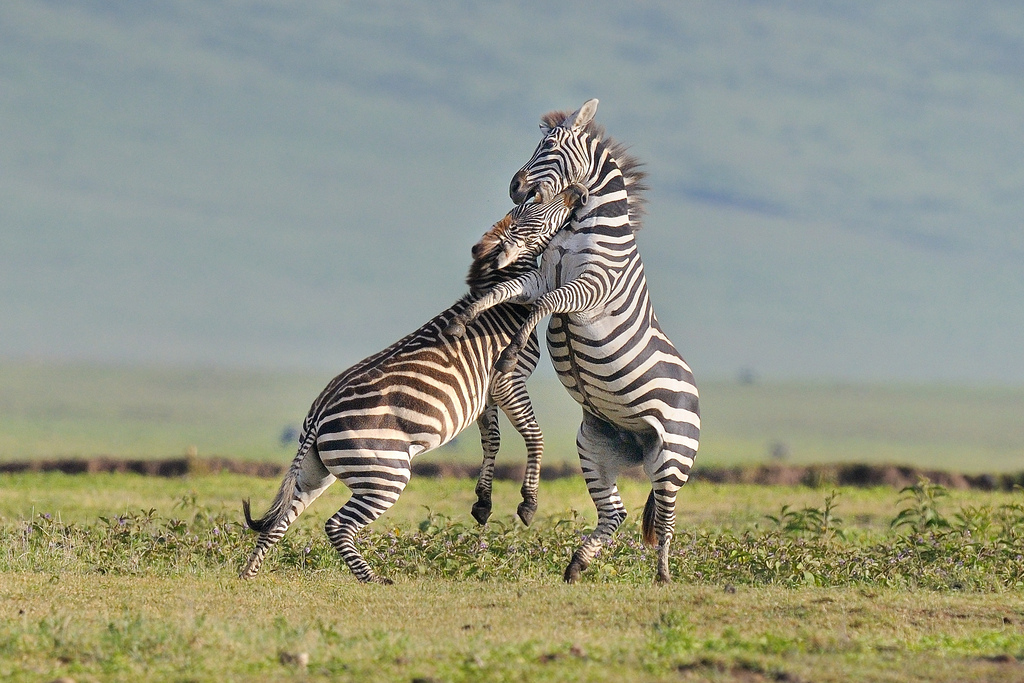 Photo: George Lamson (flickr)
When a soccer match ends in a surprising or unpredictable way, Brazilians often use the popular expression "deu zebra" ("it was a zebra"). The term applies to games where supposedly weaker teams beat stronger ones, or when key players are outperformed on the field.
Like the animal, "zebras" are fairly rare. But in this World Cup, an incredible herd of surprises have come galloping in from the Americas to scare off the mighty lions during this group stage.
---
Bogotá Institutes Dry Law to Stem Soccer-Related Violence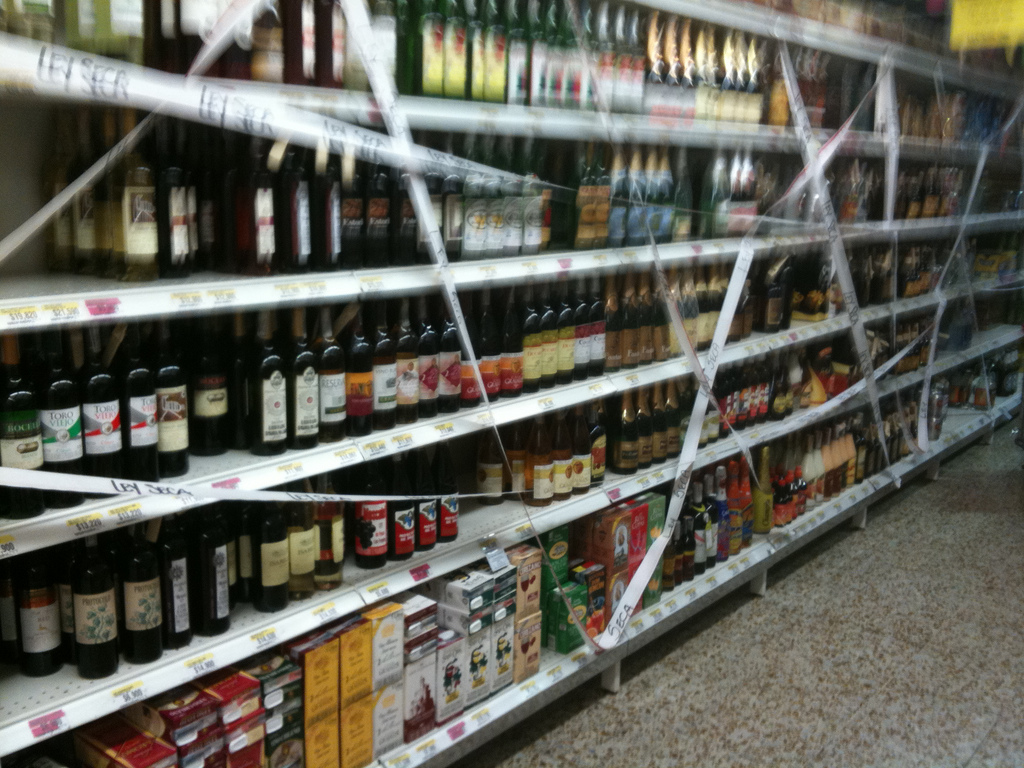 Photo: George Lamson (flickr)
A ley seca (dry law) announced by Bogotá Mayor Gustavo Petro on Wednesday was extended until 6 am this morning. Petro justified the implementation of the law citing the violence that erupted after Colombia's opening World Cup game against Greece on June 14—the South American nation's first tournament appearence in 16 years. Despite liquor sales ending at 6 pm, over 100 people were injured and nine people were killed in gunfights, stabbings and fistfights on the eve of the presidential runoff.
---
Book Launch – Brazil: The Troubled Rise of a Global Power by Michael Reid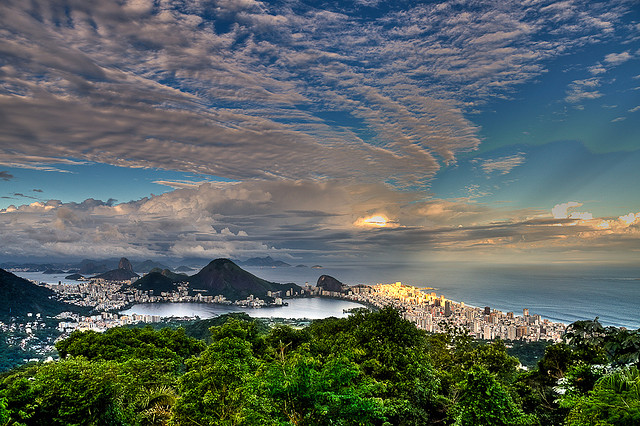 Photo: Michael Sharman (flickr)
Brazil, the world's fifth largest country and seventh largest economy, has seen public optimism begin to level off after the heady days of fast economic growth, global diplomatic initiatives, and oil discoveries. On June 11, Michael Reid presented his book, Brazil: The Troubled Rise of a Global Power at Americas Society/Council of the Americas. The Economist's Latin American Bello columnist and the former Americas editor, Reid discussed the implications of country's protests, the steady growth of foreign direct investment, Brazil's foreign policy, and—on the eve of the World Cup kick-off—the impact of the mega-event on the country's politics and development (and its team's chances in the tournament).
Watch a highlight video from the event.
Watch a complete video of the event…
---
Is the U.S. Missing a Free Kick at the World Cup?
By Stephen Kurczy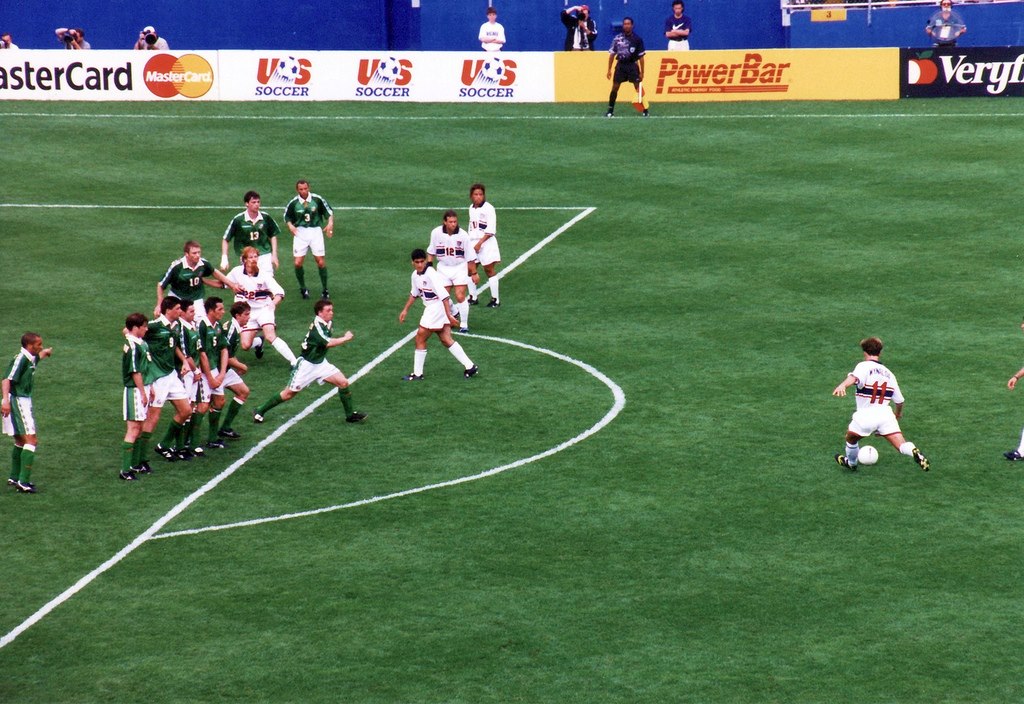 Photo: murphman61 (flickr)
The World Cup offers something of a free kick for soccer diplomacy, which some observers say U.S. President Barack Obama is failing to capitalize on.
"It's a diminished opportunity," says Derek Shearer, a former ambassador to Finland under President Bill Clinton and current director of the McKinnon Center for Global Affairs at Occidental University, where he teaches a class on sports diplomacy. "Obama could have made more of it than he seems to be doing."
---
For the U.S., a Tie Against Ghana is as Good as a Loss
By Stephen Kurczy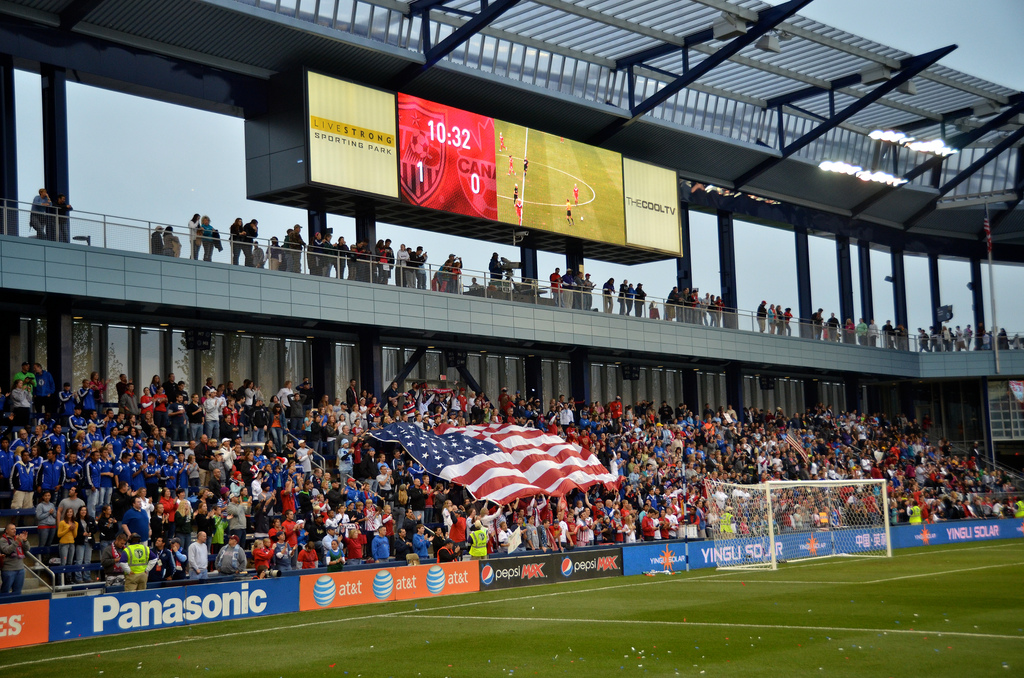 Photo: brent flanders (flickr)
For Team U.S.A., a tie might as well be a loss in today's World Cup match against Ghana, who knocked the Yanks out of the 2010 World Cup during overtime in the Round of 16.
But today's match is about more than payback. Ghana and the U.S., along with Portugal and Germany, are in Group G, considered this tournament's so-called "Group of Death" because it's stacked with powerhouse teams who all made it into the quarterfinals in 2010. Group G is one of the tournament's eight groups, with only two teams from each group of four able to advance to the Round of 16. In that context, there's no margin for mistakes.
---
World Cup 2014: The Whole World Is Watching
By Flora Charner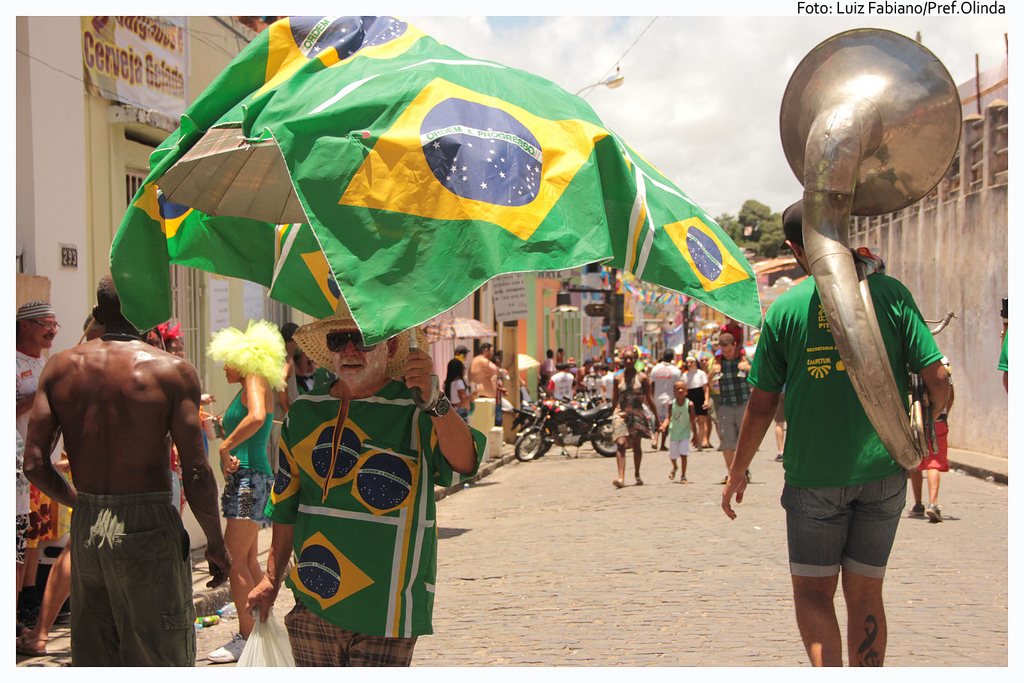 Photo: Luiz Fabiano/Pref.Olinda (Flickr)
Today, the eyes of the world will descend upon Brazil as the country hosts the opening match of the 2014 World Cup. Comment on this post
The Brazil v. Croatia match will be held in São Paulo's new Arena de Corinthians, known by its nickname "Itaquerão." The opening ceremony will include performances by Jennifer Lopez, Pitbull and local artist Claudia Leite.
As the country's star players warmed up in the Teresópolis compound in Rio this week, the atmosphere near the São Paulo stadium was heating up. Striking subway workers shut down many parts of this already congested city, leaving thousands stranded. Landless workers belonging to the Movimento dos Trabalhadores Sem Teto (Homeless Workers Movement—MTST) camped out nearby, and groups opposed to government overspending vowed that "there won't be a Cup."
---
Red Carding Waste and Corruption
June 6, 2014 – U.S. News and World Report
By Richard André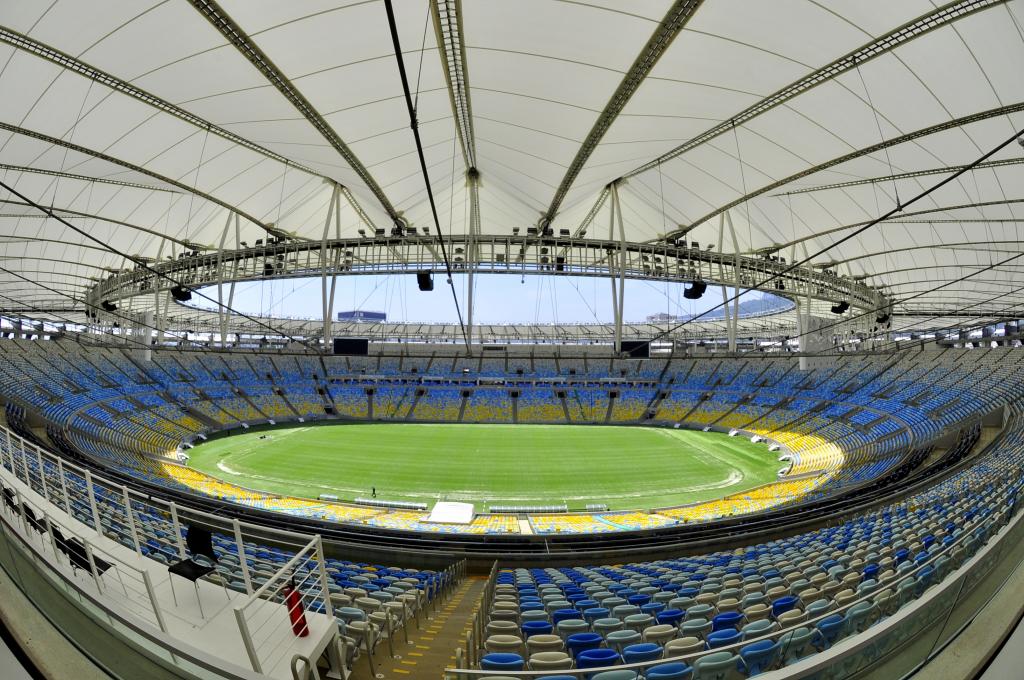 Photo: Luciano Silva (Flickr)
In less than a week, the 2014 FIFA World Cup kicks off in Sao Paulo, Brazil, marking the tournament's return to soccer-crazy South America for the first time in 36 years. More than 600,000 foreign tourists are preparing to descend on 12 host cities, as the rest of the world anxiously awaits the month-long fútbol frenzy.
But the feeling among Brazilians is more conflicted. Brazil has struggled to prepare and meet deadlines for the tournament, as the media has been relentlessly reminding everyone. Massive anti-government street protests; delayed construction at several stadia; unfinished transportation infrastructure in Cuiaba, Salvador, Recife, and elsewhere; and striking bus drivers and police forces have all attracted a lot of bad press before the first ball is kicked. Despite politicians' assurances otherwise, the discontent is real: 61 percent of Brazilians view hosting the event as a bad thing because it takes money away from public services like health care and education.
---
Dilma Defends Brazil's World Cup Preparations
June 4, 2014 – www.as-coa.org
By AQ Online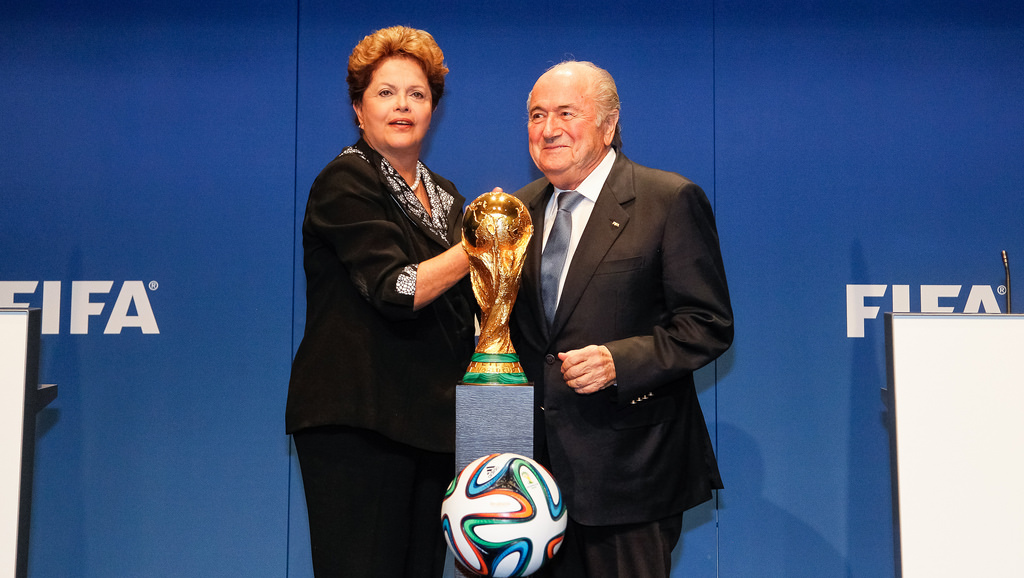 Photo: Blog do Planalto (Flickr)
Brazilian President Dilma Rousseff said on Wednesday that the host nation's trouble with World Cup preparations are normal. "Everywhere in the world these big engineering projects always go down to the wire," she told reporters at the presidential palace. Responding to criticism about unfinished stadiums and delayed infrastructure projects, including transport systems in Cuiabá, Salvador and Recife, Dilma said the delays reflected "the cost of our democracy."
With eight days before the World Cup kicks off in São Paulo, the threat of a new round of anti-government protests loom over the tournament. More than a million Brazilians took to the streets during last summer's Confederations Cup—a prelude to the World Cup—to protest corruption, fare hikes for public transport, and excessive public spending.
Comment on this post
---
Brazil's 2014 World Cup: Get the Numbers
June 2, 2014 – www.as-coa.org
By Rachel Glickhouse and Luisa Leme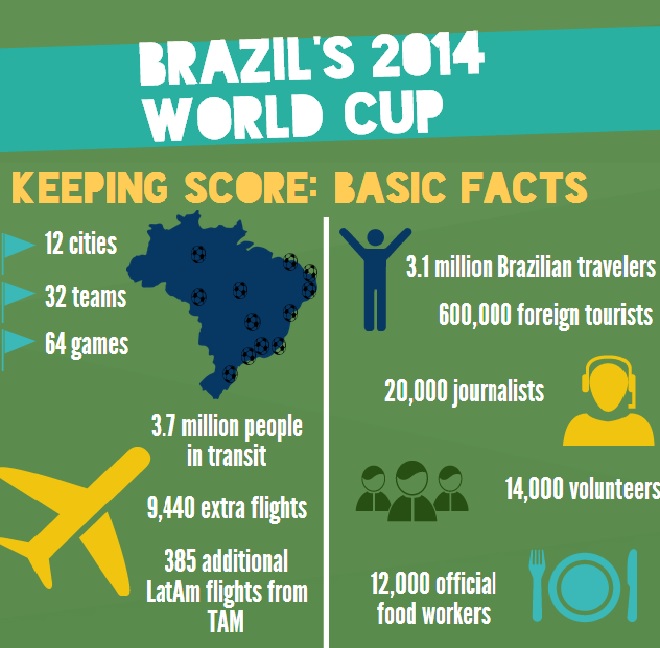 Brazil kicks off the 2014 World Cup on June 12 in a month-long event taking place in 12 cities throughout the country. With more World Cup wins than any other country, several financial institutions are betting on Brazil as the favorite to win this year. The games open in São Paulo and conclude in Rio de Janeiro. Get the numbers on this mega-event in an AS/COA Online infographic.
---
Rumble in the Jungle: Manaus Tackles World Cup Logistics
May 30, 2014 – Connecting the Americas
By Stephen Kurczy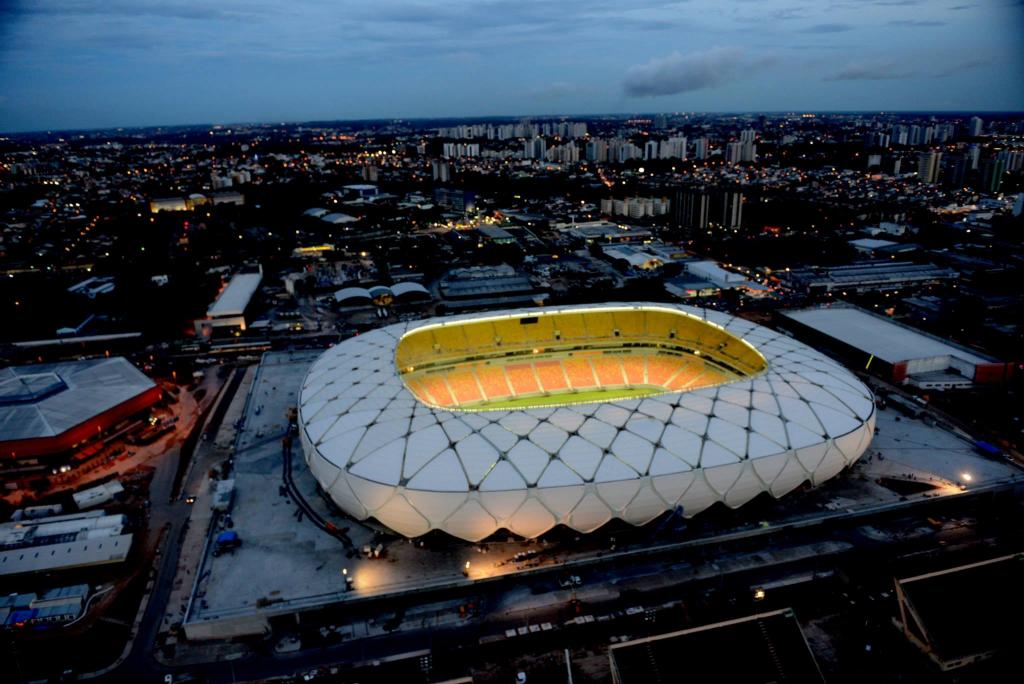 Photo: Blog do Planalto (Flickr)
In a competition for most improbable place to host the World Cup, the city of Manaus would surely make the finals. Its Arena da Amazônia sits in the middle of the Amazon Rainforest, 900 miles up the Amazon River in Brazil's isolated Amazonas state bordering Venezuela, Colombia, and Peru. "The Amazon Arena" will host four matches next month– including one featuring the English team, whose coach got into a spat with the mayor of Manaus after complaining about the prospect of having to play "in the middle of the Amazonian jungle.
So perhaps more than any other of Brazil's 12 World Cup host cities, Manaus faces a Sisyphean task during next month's influx of futebol superstars and their rabid fans: prove that it was worthwhile to build a $300 million, 42,000-seat stadium in an isolated port city lacking a serious futebol culture, or experience hosting major events.
---
Striking in Brazil Continues
May 22, 2014 – AQ Online
By AQ Online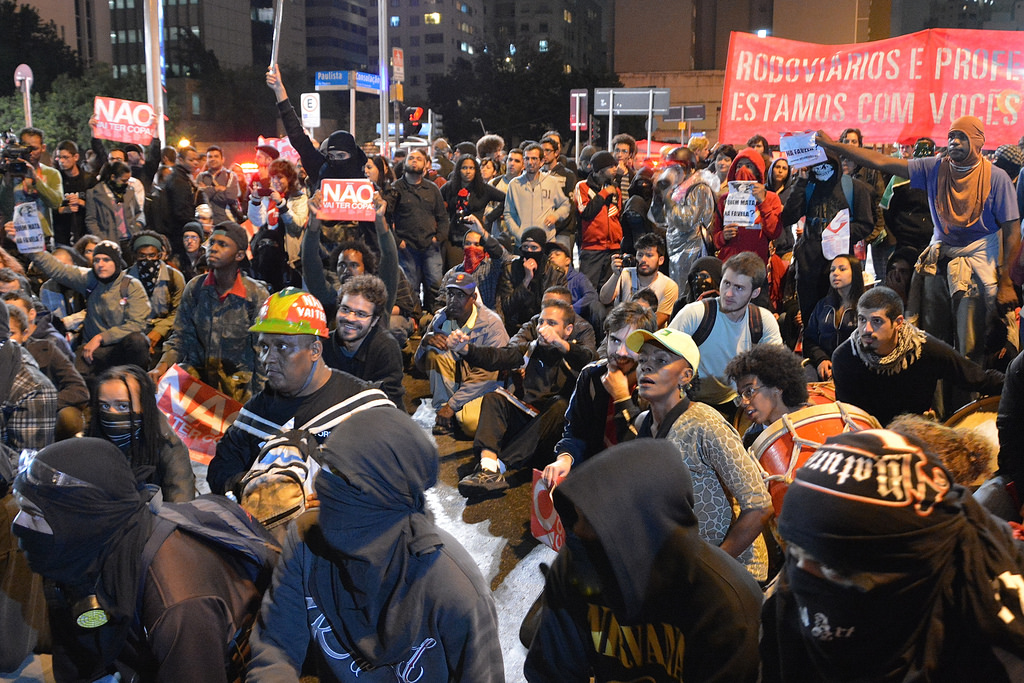 Photo: Ben Tavener (Flickr)
With 21 days left before the World Cup begins, Brazilian bus drivers have gone on strike—shutting down terminals across São Paulo—while thousands of police are striking in 14 of Brazil's 26 states and smaller protests are cropping up across the country.
In São Paulo, Brazil's most populous city with over 20 million inhabitants, over half of the city's 28 bus terminals are closed due to the strikes. The bus strike began on Tuesday with 300 drivers marching to the the mayor's office to demand a meeting with São Paulo Mayor Fernando Haddad. Bus drivers are demanding a salary increase that surpasses the 10 percent increase agreement reached by their union, which they have rejected as insufficient. The Rio de Janeiro police force joined them yesterday, launching a 24 hour strike to call for a salary increase of their own.
---
Two-Day Rio Bus Strike Ends
May 15, 2014 – AQ Online
By AQ Online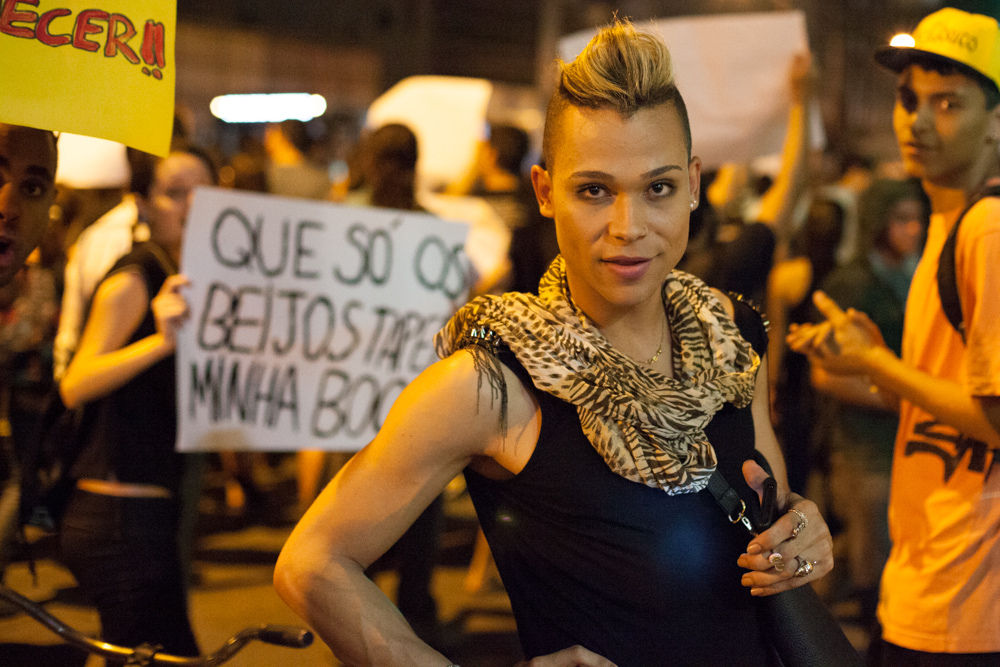 Photo: Izaias Buson (Flickr)
Buses in Rio de Janeiro returned to normal operations today after a strike immobilized the city for two days. The strike began Tuesday and left hundreds of thousands of commuters without transportation. According to Alexandre Almeida, the Rio Onibus press officer, at the start of the strike over 7,500 buses—comprising 84 percent of the city's bus fleet—were halted. Bus drivers initially began striking for 24 hours last Thursday and decided to reinitiate the strike after their demands for better working conditions and a 40 percent salary increase were not met.
Between last week and this week's strike, over 700 buses have been damaged as part of the protest and strike. The Transônibus union, which represents 36 bus companies across Rio de Janeiro state, reached an agreement with transportation companies for a 10 percent increase in salaries, but drivers rejected the proposal. The Central Sindical e Popular Conlutas (Trade Union and People Center—CSP), representing the drivers, complained that the agreement between the union and the companies "still eliminates 28,000 fair-collector jobs." Hélio Teodoro, a leader of the striking bus drivers, stressed the importance of including the bus drivers themselves in the discussions. "The solution is the union and the companies sitting down with us to negotiate," he said.
---
Security or Counterinsurgency in Rio Favelas?
April 16, 2014 – AQ Online
By Sabrina Karim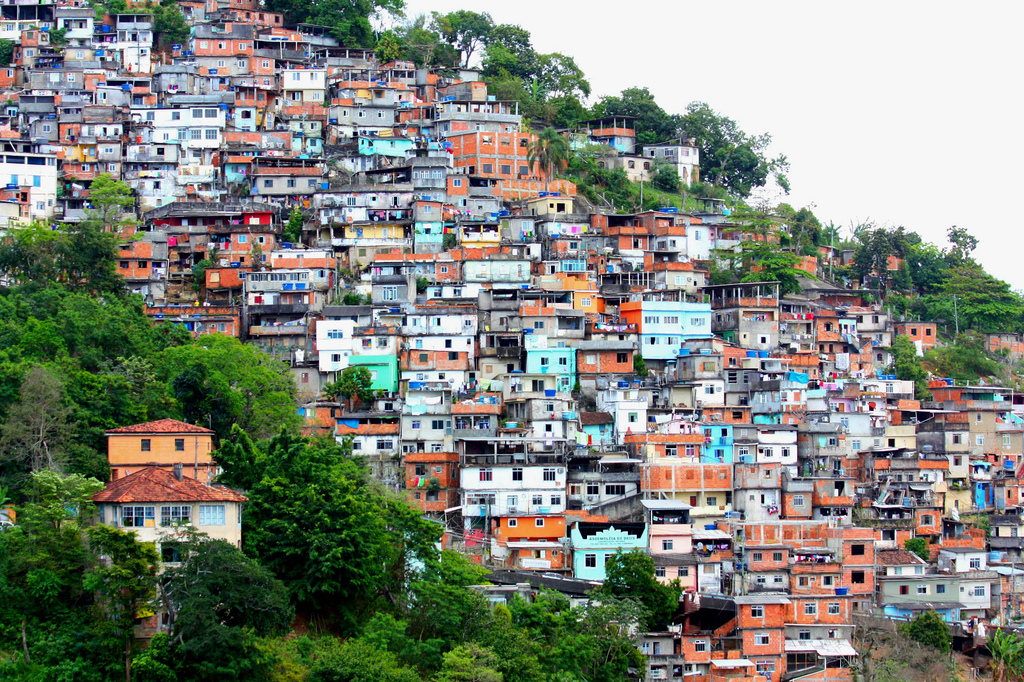 Photo: dany13 (Flickr)
In anticipation of the 2014 World Cup, the Brazilian government enacted a policy to have special units of police occupy favelas in Rio de Janeiro. As of last week, one of Rio's most dangerous shanty towns, Complexo da Maré, was taken over by close to 3,000 Brazilian troops. The shift—from using the elite Unidade de Policia Pacificadora (Police Pacifying Unit—UPP) forces to bringing in the military—marks a new stage of Brazil's "pacification" policy. Up until now, the UPP had been responsible for sweeping and occupying the favelas.
Many of Rio's 1,000 favelas are controlled by criminal groups like the Comando Vermelho (Red Command) and the Terceiro Comando Puro (Third Command), which are embroiled in a battle to control more of the city. Turf wars between rival gangs have consistently led to high levels of violence and crime. Brazil is fraught with crack cocaine use, and ranks second in consumer use of the drug and its derivatives. The country also has one of the highest homicide rates in the world.
---
10 Things to Do: Manaus, Brazil
Spring 2014 – Americas Quarterly's Spring 2014 issue, "Consulta Previa and Investment"
By Rebecca Bintrim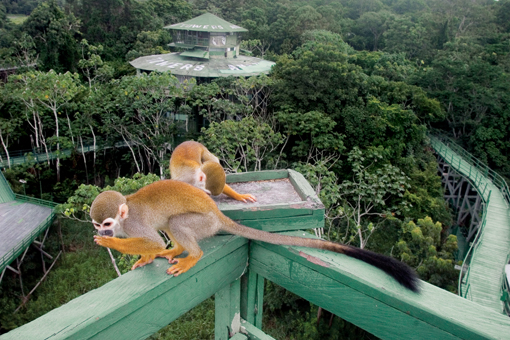 Photo: Christine Horton
Manaus, the historic gateway to Brazil's Amazon, melds a colorful past and a bustling entrepreneurial culture with its status as a symbol of biodiversity. Just beyond the riverport and the spectacular architecture of the city center is the rainforest that has lured adventurers and dreamers for centuries. Now, Manaus, home to nearly 1.8 million people, can add sports to its list of attractions as one of the sites for the 2014 FIFA World Cup.
1. Climb above the canopy. A course in tree climbing gives ecotourists an alternative way to experience the world's largest tropical forest. (210 reais for a one-day excursion.)
---
World Cup Update
Spring 2014 – Americas Quarterly's Spring 2014 issue, "Consulta Previa and Investment"
By Richard André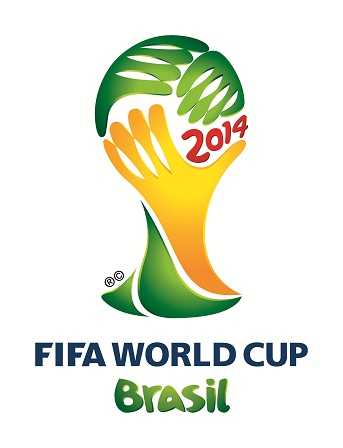 Photo: Shine 2010 – 2010 World Cup good news (Flickr)
With preparations for the 2014 FIFA World Cup nearing completion, soccer fans across the region can turn their attention to what really matters: their national team's chances of winning on the world's biggest stage. Although European teams have won four of the last six competitions, South American teams have historically fared far better when playing at home.
The World Cup draw last December placed the 32 qualifying teams in eight groups of four. From June 12 to June 26, each team will play the other teams in its group in a round- robin format. The top two teams from each group will advance to the elimination round. Not all groups are created equal, so here are some predictions for the hemisphere's 10 qualifying teams.
---
Hard Talk: Do megasports events contribute to economic development?
Spring 2014 – Americas Quarterly's Spring 2014 issue, "Consulta Previa and Investment"
By Robert A. Boland and Victor A. Matheson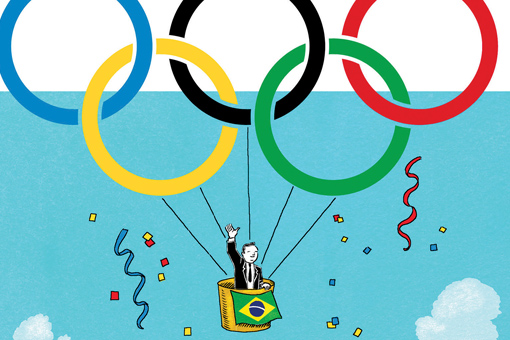 Illustration: Wesley Bedrosian
Yes: The urgency and scale of hosting can provide a needed boost to public investment and transform a country's image, infrastructure and business conditions beyond the games.
In the next two years, Brazil will host the three largest mega sports events in the world: the 2014 FIFA World Cup this summer, and then the Summer Olympics and Paralympics in Rio in 2016. Other nations in the Americas and across the globe will be watching to see if Brazil's hosting duties lead to broad-based, lasting growth, or are merely an expensive distraction. While history provides examples of both scenarios, hosting such megaevents can provide lasting and transformative value, including to developing nations.
No: Too often, especially in emerging economies, the exorbitant investment necessary to prepare for these events goes to projects with little long-term economic value.
The World Cup, the Olympics and other mega sports events give cities and countries the opportunity to be in the world's spotlight for several weeks. And the competition among cities to host these events can be as fierce as the competition among the athletes themselves. Bids that had traditionally gone to wealthier countries have recently become a prize to be won by prospective hosts in the developing world. South Africa became the first African host of the World Cup in 2010; and this summer, Brazil is hosting the first South American World Cup in 36 years.
---
Hard Talk: Does FIFA's corruption hurt the beautiful game?
Summer 2013 – Americas Quarterly's Summer 2013 issue, "Energy in the Americas"
By Noah Davis and Juan C. Cappello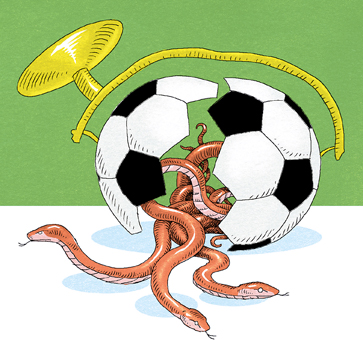 Illustration: Wesley Bedrosian
Yes: The series of scandals have not only tainted FIFA, but undermined trust in the game as well.
FIFA, international soccer's governing body, is corrupt. The degree of corruption may be debatable, but its existence at the highest levels is not. Over the past three years, at least a dozen of the organization's 24 Executive Committee (ExCo) members have been accused of serious improprieties stemming from bribes, illegal ticket sales and other scandals. While Sepp Blatter, FIFA's president since 1998, has escaped punishment—so far, at least—many of his colleagues have fallen or resigned. The endemic corruption not only compromises the quality of play on the field, but reduces fan support of the sport and tarnishes the beauty of the beautiful game.
No: Despite FIFA's problems, billions around the world continue to be enthralled by the beautiful game.
FIFA's $260 million headquarters complex in Zurich, Switzerland, with its huge glass façade and attractive parks, conveys a sense of modernity, openness and transparency—all qualities the organization lacks. Accusations of illegal or unsavory activities by the organization's leadership have dominated the headlines, supplying critics with plenty of material.
---
Infrastructure: Brazil, the World Cup and Olympics
Fall 2012 – Americas Quarterly's Fall 2012 issue, "Latin America's Real Middle Class"
By Carolina Pasquali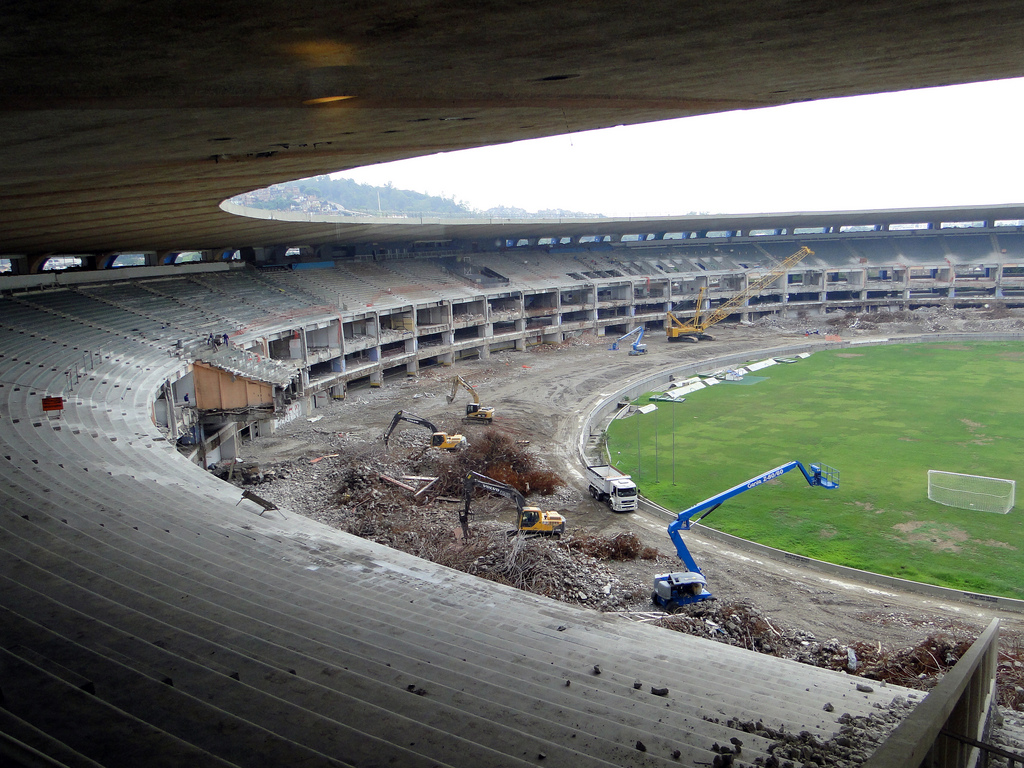 Photo: Rodrigo Soldon (flickr)
With the 2012 London Olympic Games over, attention has shifted to Brazil as host of the 2014 World Cup and the 2016 Summer Olympics. But a worrying amount of work needs to be done.
Brazilian officials have promised that public works projects such as overhauling urban transit, airports and ports, building new roads, sports stadiums and hotels, and upgrading communications and the energy grid, will be completed on time. But there's reason to be skeptical. Five years after the International Federation of Association Football (FIFA) awarded the World Cup to Brazil, and three years after Rio de Janeiro won the International Olympic Committee (IOC) bid to host the Summer Olympics, delays, cost overruns, lawsuits, and corruption have dampened the celebrations.
---
10 Things to Do: São Paulo, Brazil
Summer 2012 – Americas Quarterly's Summer 2012 issue, "Gender Equality: Political Backrooms, Corporate Boardrooms and Classrooms"
By Carolina Pasquali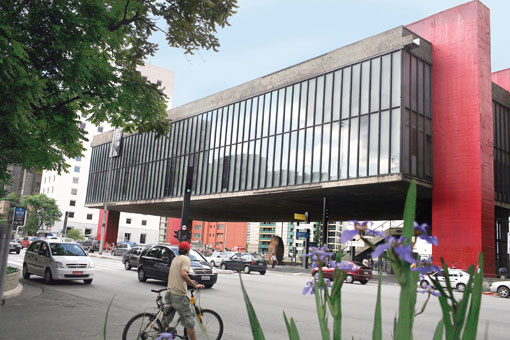 Photo: Andrew Harper/Bloomberg News/Getty
São Paulo is a challenge if you're in a hurry. At first glance, it's a city of traffi c jams, tall buildings and endless concrete with no green space—not much charm at all. Or you can pause and amaze yourself with the treasures you'll find. From great restaurants to museums, a buzzing nightlife to fine art, there's lots to get absorbed in. Just make sure you leave with plenty of time between places…remember the traffic?
1. Spend an Afternoon with Fine Art. Brazil's Museu de Arte de São Paulo (MASP) has the most extensive collection of Western art in the southern hemisphere. The 1968 modernist building designed by famed Brazilian architect Lina Bo Bardi is art itself. Open daily (except Mondays) 11:00 a.m.–8:00 p.m. Admission: 15 reais ($7.40).
---
10 Things to Do: Salvador, Brazil
Winter 2012 – Americas Quarterly's Winter 2012 issue, "China's Global Rise: Implications for the Americas"
By Matthew Aho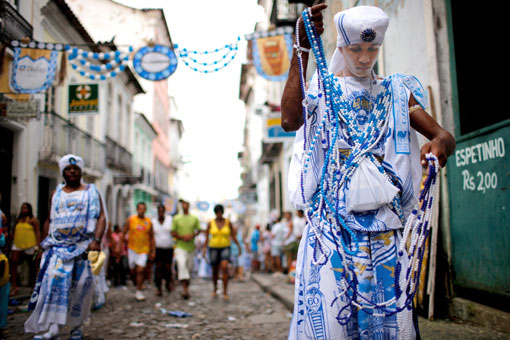 Photo: Caio Guatelli/LatinContent/Getty
Chosen in November 2011 as the Afro-descendent capital of the Americas by leaders of the Encontro Ibero-Americano do Ano Internacional dos Afrodescendentes, Salvador is also the capital of Brazil's northern Bahia state. Also once the seat of national government after independence, Bahia delights tourists with its historical sites, music, architecture, beaches, cultural diversity, and the renowned hospitality of Baianos.
1. Stroll Through Historic Downtown. Salvador's historic Pelourinho district is recognized by UNESCO as a World Heritage Site for its architecture and unique preservation of the history of resistance by African slaves in Brazil. Walk on the famous Rua Chile to the Municipal Square and Rio Branco Palace, one of the country's oldest palaces.
---
Brazil's Long To-Do List
Summer 2011 – Americas Quarterly's Summer 2011 issue, "Sports: Business, Integration and Social Change"
By Andrew Zimbalist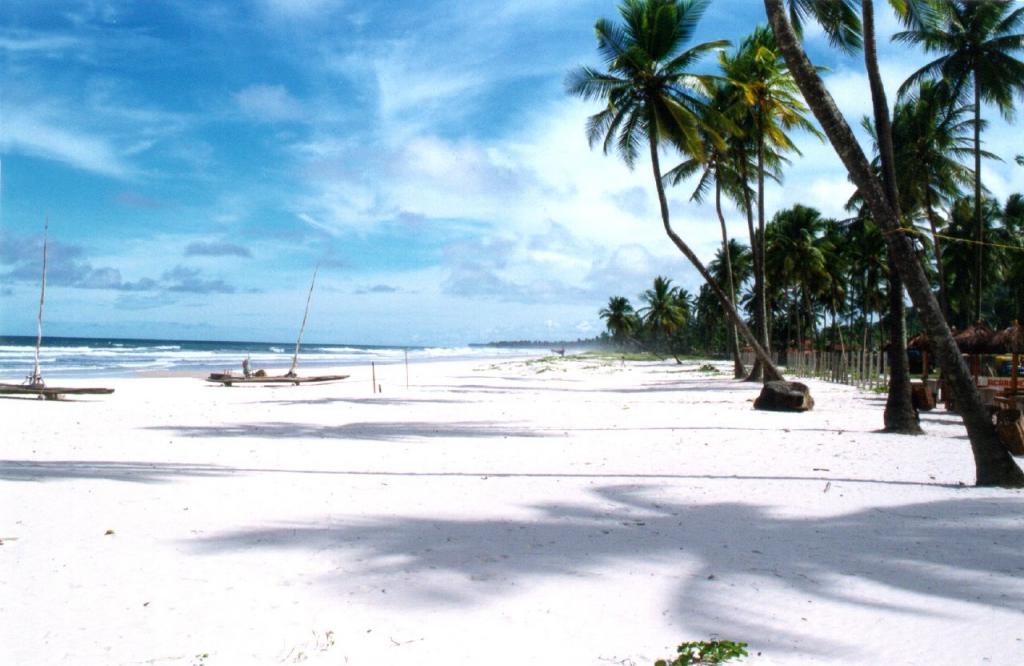 Photo: Carlos Luz (Flickr)
Never mind that the Brazilian government is trampling the homes and uprooting the communities of the poor in some inconveniently located favelas. Never mind that many of the million-plus residents of Rio de Janeiro's shantytowns still find their lives controlled by violent drug gangs and that the crime rate in Rio ranks among the highest in the world. Never mind that 1.5 million Brazilians are scheduled to be relocated before 2014.
There's a party to throw—actually two—and the world will be watching. Brazil will host soccer's World Cup in 2014 and the Summer Olympic Games in 2016. Years ago, when Brazil convinced the International Federation of Association Football (FIFA) and the International Olympic Committee (IOC) that it had the best plan to host these mega-events, grand promises of new sporting venues and modern infrastructure were made.
---