Reading Time:
5
minutes
Argentina | Bolivia | Guatemala | Panama | Uruguay | Full List
See above for a breakdown of Latin America's other 2019 transitions, and check back here for updates throughout the region's busy election season. Correction appended below. This guide was updated on July 1 after party primaries on June 30.
---
Election Date: Oct. 27
Format: Two rounds. If no candidate receives more than 50% of votes in the first round, the two leading candidates will compete in a run-off on Nov. 24.
---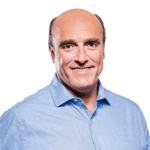 Daniel Martínez, 62, former mayor of Montevideo
Broad Front
"Two out of three children born now will work in jobs that don't currently exist. We need to adjust to change."
How he got here: Martínez has longstanding roots in the Uruguayan left, beginning as an engineer at the state energy agency, where he secretly fought against the dictatorship as a socialist activist. He later moved to the private sector before President Tabaré Vasquez tapped him as his minister of industry, energy and mining in 2008. Martínez won a senate seat in 2009 before becoming mayor of Montevideo in 2015, with job creation and public works helping his star rise.
Why he might win: Never to be seen without his customary mate gourd, Martínez's relatability has earned him deep affections among the left, whose members call him El Pelado, or "the bald one." After he balanced Montevideo's budget, polls consistently rank Martínez as a frontrunner.
Why he might lose: Martínez faced a backlash for a costly proposal to convert a rail station into a Silicon Valley-style technology hub. Business friendly, he may face internal pressures from figures further left. A surge in crime under the ruling Broad Front could push voters to the opposition. Less than a quarter of voters in June's primaries backed the Broad Front, the coalition's worst turnout since primaries began in 1999. Results also showed the leftist coalition lost some 50,000 voters from primaries in 2014. This could be because supporters saw Martínez's primary as uncompetetive and stayed home – or because they've lost enthusiasm for the coalition after three consecutive terms.
Who supports him: While Uruguay typically leans left, Martínez's base is broad, containing influential socialists and fiscal conservatives alike.
What he would do: His flagship Capital Fund plan to improve manufacturing and transportation in Montevideo could be scaled up to revitalize the nation at large and expand Uruguay's influence within Mercosur. He has proposed to tackle mounting concerns over security by increasing video surveillance and community policing. Martínez has also committed to shrinking prison populations. As in his mayoral tenure, he aims to prioritize STEM innovation to bolster Uruguay's technology sector and fight unemployment.
Ideology: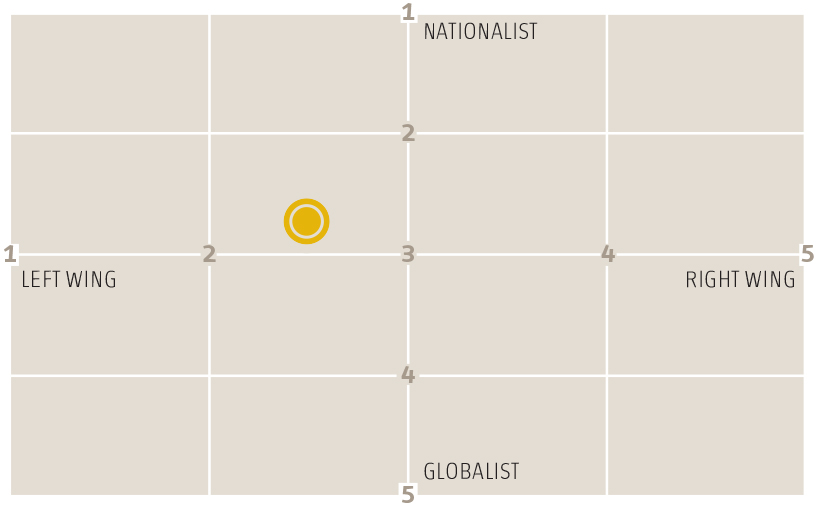 NOTE: AQ consulted with Uruguayan political experts to help us identify where each candidate stands on two spectrums: left wing versus right wing, and nationalist versus globalist. We've published the approximate rating of each candidate, with a caveat: Platforms evolve, and so do candidates.
---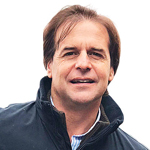 Luis Lacalle Pou, 45, senator
National Party
"If we do not lower the fiscal deficit, it will be very hard to fulfill any other promises."
How he got here: Coming from a storied political family, Lacalle Pou is the son of President Luis Alberto Lacalle and Senator Julia Pou. He has served in government since his election to Congress in 1999, often opposing the Broad Front's bills for healthcare, labor and marriage equality. He did support a form of marijuana legalization during his failed 2014 presidential run.
Why he might win: Security concerns and a high cost of living may drive voters away from the Broad Front after 15 years of rule.
Why he might lose: Peers in government have cited nepotism and an unremarkable political track record as flaws. "He does not know the daily life of most Uruguayans and I think that is a problem," said Education Minister María Julia Muñoz.
Who supports him: The pro-market constituents of the National Party. He also won supporters during campaign stops in Uruguay's countryside. Defectors from the Broad Front could back him if they turn right.
What he would do: Staunchly pro-business, Lacalle Pou promises he won't "share power with the unions" and has called for an "urgent austerity plan" to lower Uruguay's fiscal deficit. He is, however, committed to collaborating on policy and plans to appoint a coalition government with members from all four parties in his cabinet. His education platform includes a merit-based framework for primary and secondary schools' and revamped teacher training with a focus on social inclusion.
Ideology: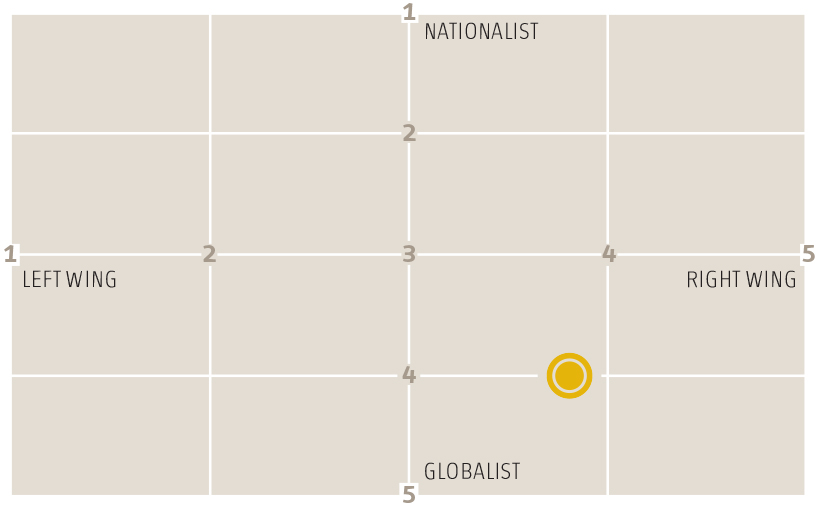 ---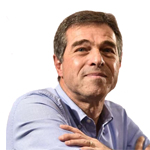 Ernesto Talvi, 62, economist
Colorado Party
"Left or right? I'm a progressive liberal."
How he got here: Talvi, an economist with a Ph.D. and MBA from the University of Chicago, surprised many by defeating a respected former two-term president, Julio Sanguinetti, to capture the Colorado Party's nomination in June. The son of immigrants, Talvi is an expert on emerging markets macroeconomics and was the academic director at CERES, a think tank in Montevideo, before running for president. He's also held positions at Uruguay's central bank, Merrill Lynch, the Inter-American Development Bank, Brookings Institution and Columbia University – experience that has won him credibility with voters.
Why he might win: Talvi is a fresh face in politics who has been generating buzz for that reason, stirring hopes that the once-dominant Colorado Party can make a comeback after finishing third in the past three presidential elections. A center-left technocrat, Talvi's path to victory lies in winning the support of Broad Front voters disenchanted with the governing coalition's response to rising crime, among other issues.
Why he might lose: Talvi's biggest advantage is also his weakness: Being new to politics means he doesn't have the recognition or base that Lacalle Pou and Martínez have.
Who supports him: Centrist voters as well as members of the left that are frustrated with the Broad Front after 14 years in office.
What he would do: Talvi describes his plank as progressive, liberal and internationalist. He is focusing on improving the efficacy of Uruguay's education system and wants to build 136 public schools in at-risk neighborhoods. On the issue of crime, Talvi has criticized heavy-handed responses. He has stressed the importance of community policing, advocated for improving police training and proposed the construction of more, but smaller, prisons that focus on the rehabilitation of inmates. On a foreign policy front, Talvi's outspoken criticism of the Maduro regime contrasts with a more neutral stance from Uruguay's left and has helped him gain some exposure.
Ideology: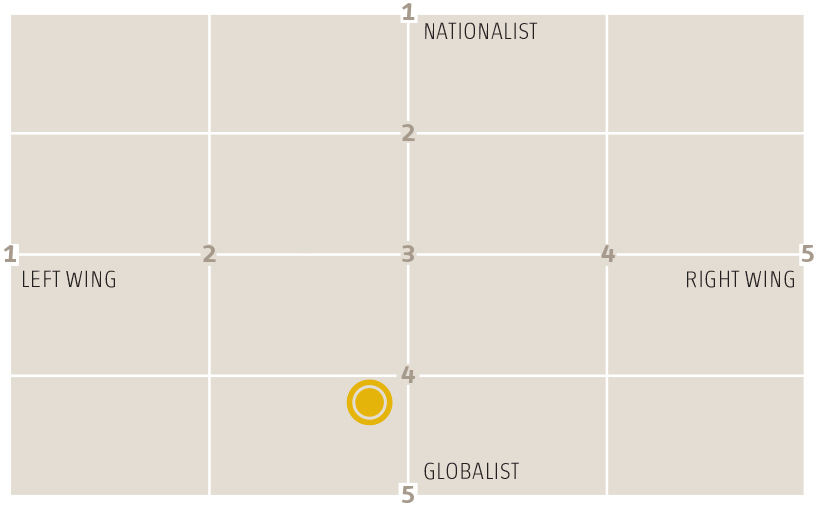 —
A previous version of this guide incorrectly stated in Carolina Cosse's profile that President Tabaré Vasquez was affiliated with the Movement of Popular Participation. He is not affiliated with the party.
Tags:
Elections 2019
,
Uruguay