Reading Time:
2
minutes
This article is adapted from AQ's latest issue on the politics of water in Latin America. Click here for the rest of our list. | Leer en español
As a cartoonist, Pedro X. Molina says his role is to "use humor and exaggeration to make a point." But when the government started violently repressing protesters in April 2018, Molina's work suddenly became no laughing matter.
"In this exaggerated, absurd and ridiculous reality that we're living, sometimes you have to be on the opposite side — on the side of reason, of logic," said Molina, 43, whose career began 20 years ago and has evolved in tandem with President Daniel Ortega's authoritarianism.
The crisis has spurred Molina to at times scale back the humor in his response. To pay homage to hundreds killed by police and pro-government groups, Molina decided to draw their portraits every day for a month.
Molina's cartoons have helped open an international audience's eyes to Ortega's crackdown on dissent. But his criticism of the government has brought threats against his life.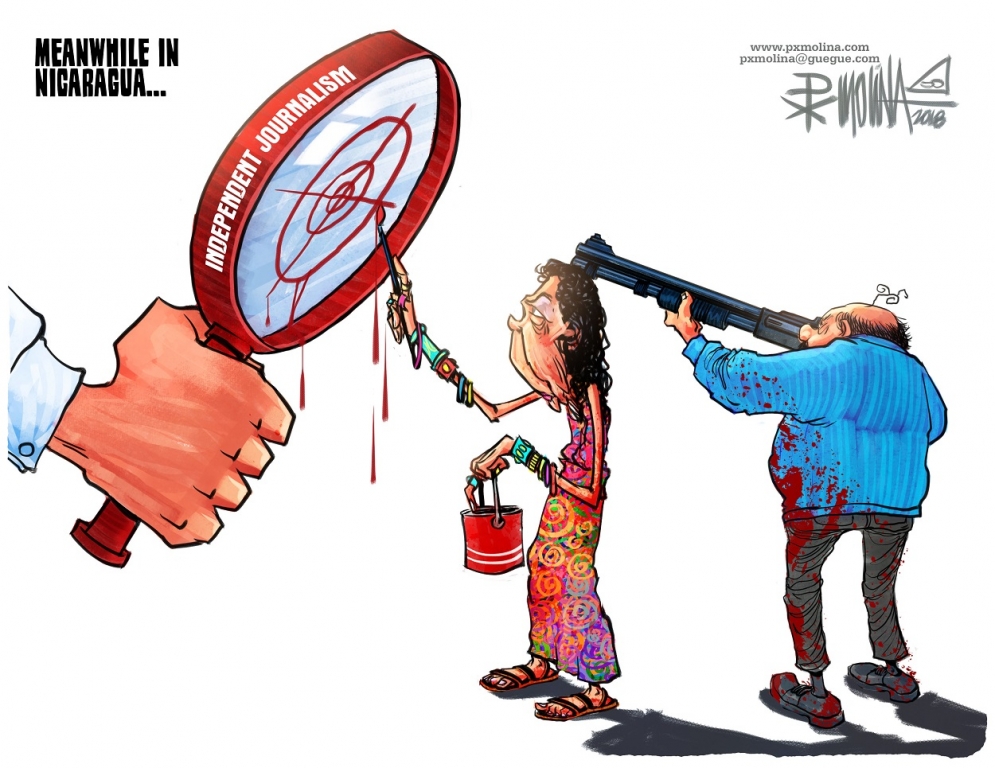 Molina's cartoons often include Ortega's eccentric wife and vice president Rosario Murillo.
Molina fled Nicaragua on Christmas Day in 2018 after police killed one journalist, imprisoned two others, and ransacked the office of his publisher, the website Confidencial. In September, he began a position as a visiting scholar at Ithaca College in New York, where he's being supported by the Ithaca City of Asylum initiative.
It's Molina's second exile: He first fled Nicaragua as a 10-year-old escaping civil war in the 1980s. The president at the time? Daniel Ortega.
"These cycles repeat themselves, unfortunately, in Nicaragua—and throughout Latin America," Molina told AQ.
This year, Molina's skill and bravery earned him Columbia University's prestigious Maria Moors Cabot prize for journalism in Latin America. He's only the seventh cartoonist and third Nicaraguan to win the award in its eight-decade history.
Molina says he'll keep drawing attention to what's happening in Nicaragua, but hopes his work will challenge what he sees as the root of other conflicts around the world.
"As a citizen, I'm worried about fanaticism of every kind, whether it's political, religious, 'progressive,' in sports," Molina said. "As a creator, I'm focused on fighting this."
—
O'Boyle is a senior editor at AQ
Tags:
Cartoonist
,
Pedro X. Molina
,
Satire