Founded 2011
---
Annual revenue
$260,000 (1.5 million reais) (2020)
---
Jobs created
36 cooperative members
---
Global market for glaucoma medications 
$7.6 billion (projection 2026)
---
Pharmaceutical components
pilocarpine
Reading Time:
2
minutes
This article is part of AQ's special report on sustainable development of the Amazon.
Each year, several dozen leaf collectors dedicate six months to foraging the leaves of the jaborandi, a once-endangered shrub found in the north of Brazil.
Members of CoEx-Carajás, a sustainable gathering cooperative, spend three to four weeks at a time deep in the Carajás National Forest. They return with massive sacks filled with dried jaborandi leaves, the only known natural source of pilocarpine, an alkaloid long used as the main component in eyedrops for glaucoma. Founded in 2011, CoEx-Carajás has cultivated an extractive method that preserves the jaborandi plant — nearly picked to extinction only decades ago — and provides livable income for locals.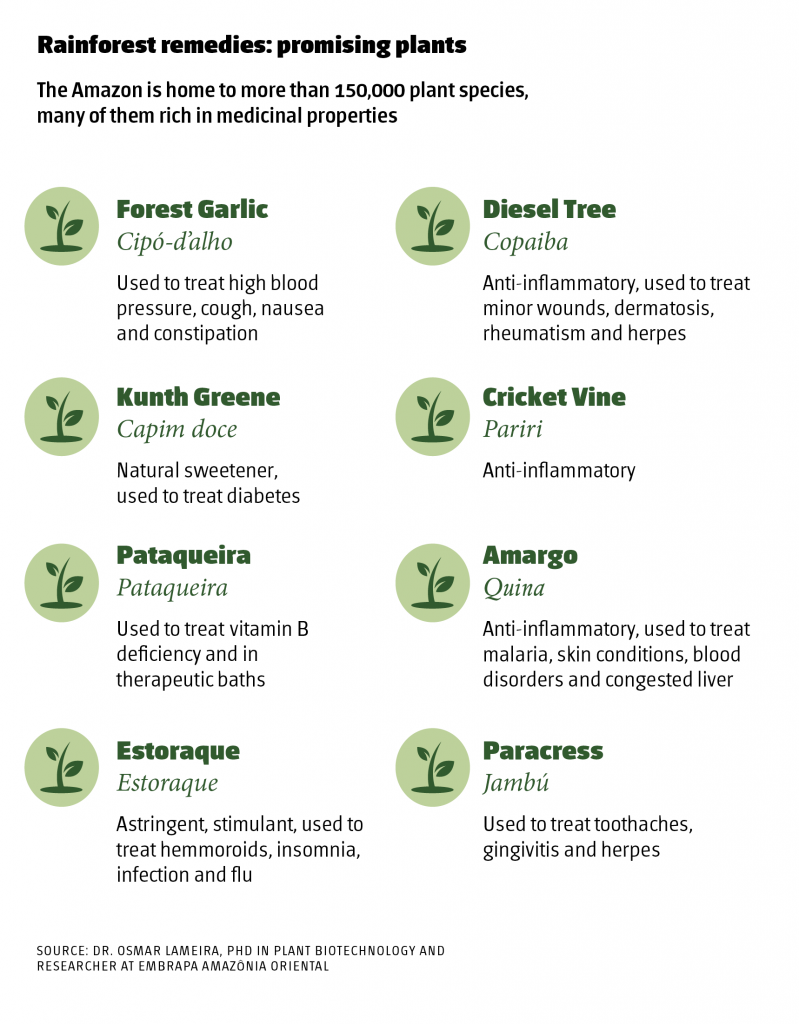 Trained by Brazil's Chico Mendes Conservation Institute (ICMBio), collectors pick leaves from trees of a certain size, and only between June and November, allowing the plants to regrow during the Amazon's rainy season. CoEx, located in Brazil's northern state of Pará, thus manages a sustainable but impressive haul, gathering an average of 30 to 50 tons of leaves per year at about $2 a pound, bringing in a monthly average income of $400 (more than twice the national minimum wage) for each of its 36 members during picking seasons. The rest of the year, CoEx members forage native seeds from Carajás, selling them to mining companies for mandatory reforestation projects.
CoEx was included in AMAZ, a business accelerator based in the Amazon, and invested the funds in infrastructure and equipment purchases. What's missing, said 25-year-old CoEx president Ana Paula Ferreira, is climbing to higher value-added portions of the supply chain. The cooperative currently sells the raw material to CentroFlora, a botanicals processing firm in São Paulo, which then extracts the pilocarpine for sale to pharmaceutical companies.