Reading Time:
3
minutes
Argentina | Bolivia | Guatemala | Panama | Uruguay | Full List
See above for a breakdown of Latin America's other 2019 transitions, and check back here for updates throughout the region's busy election season.
---
Election Results: In a runoff election on Aug. 11, Alejandro Giammattei defeated Sandra Torres to be elected president of Guatemala. Giammattei received 58% of the vote, compared to 42% for Torres. Abstention, meanwhile, was high: 57% of registered voters did not cast a vote.
This guide was last updated on Aug. 12. For more on the challenges facing Giammattei, click here.
---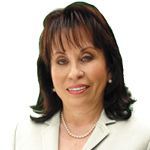 Sandra Torres, 63, former first lady
National Unity of Hope
"No more confrontation, no more polarization, no more divisions. Guatemala needs national unity."
How she got here: As the wife of former President Álvaro Colom, Torres won supporters and critics for taking an influential role in supporting state social programs. This is her third shot at the presidency. Because the constitution bars sitting presidents' spouses from running to succeed them, the couple divorced in 2011 so she could run. A top court nevertheless rejected that candidacy, but she was able to run in 2015 and finished second to Jimmy Morales. In the first round election on June 16, Torres received the most votes, with 24% of ballots cast for her.
Why she might win: She is well-known and her party, unlike others, has a national structure that will benefit her.
Why she might lose: Weighed down by political baggage, Torres has the highest rejection ratings among candidates. She's faced investigations by the attorney general's office for alleged campaign finance violations during her 2015 campaign.
Who supports her: Business and local government — mostly mayors but also a few governors and deputies. Her stronghold is with rural voters who benefited from the social programs she organized during her husband's government.
What she would do: Long a center-left politician, Torres' ideology is now less clear. She has promised her social programs will return if she's elected. To address crime, she wants to put the military on the streets – a practice President Jimmy Morales ended last year. She has expressed concern over a deal the Morales government made with the U.S. that requires migrants heading north to the U.S. to seek asylum in Guatemala. Torres has called for congressional approval of the deal, something Guatemala's Constitutional Court has already ruled is necesarry.
Ideology: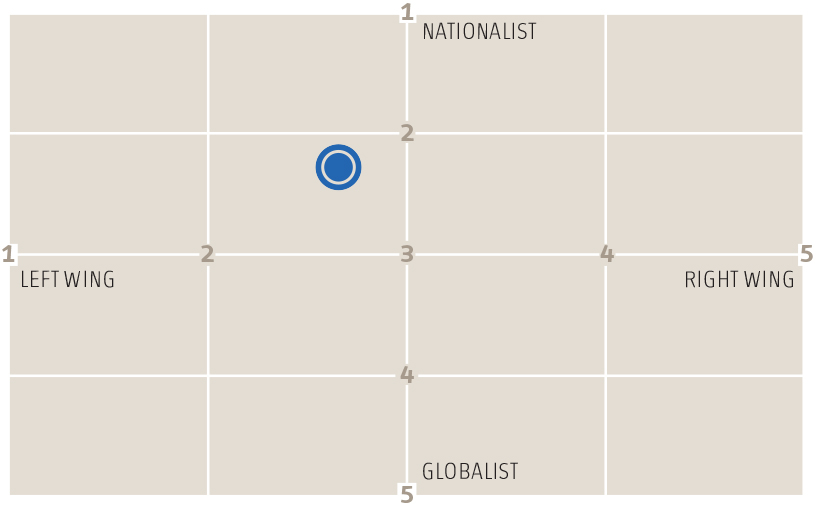 NOTE: AQ asked a dozen nonpartisan experts on Latin America to help us identify where each candidate stands on two spectrums: left wing versus right wing, and nationalist versus globalist. We've published the average response, with a caveat: Platforms evolve, and so do candidates.
---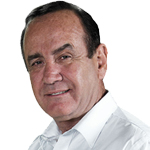 Alejandro Giammattei, 63, doctor and former executive
Let's Go for a Different Guatemala
"There are efforts to judicialize politics or politicize the judiciary. These have only led to a disenchanted population and weaker institutions."
How he got here: A doctor by profession, Giammattei has previously unsuccessfully run for president three times and twice to be mayor of Guatemala City. He was general coordinator of Guatemala's electoral board in 1985, 1988 and 1989 and has experience in the private sector as well. More notoriously Giammattei was director of Guatemala's penitentiary system when a police operation to take back control of a prison ended in the deaths of seven inmates. An investigation linked him to the abuses and he went to prison for 10 months before ultimately being exonerated for lack of evidence against him.
Why he might win: Polls show Giammattei is well-liked among voters who recognize his name. His big advantage in the runoff is the high level of disapproval for Torres.
Why he might lose: Giammattei was absolved of his role in the prison massacre in 2012, but the controversy still follows him. He has run four times with four different parties, and could be seen as someone who just wants power. He only received 14% of the vote in June's first round.
Who supports him: The military elite, social conservatives and voters who dislike Torres.
What he would do: His past campaigns have stressed security and proposed iron-fist solutions to crime, and he's said he'd restructure the national civil police, increase the number of soldiers, and build new prisons to address overcrowding. He has come out against the idea of resusitating the CICIG anti-corruption body, which he has criticized.
Ideology: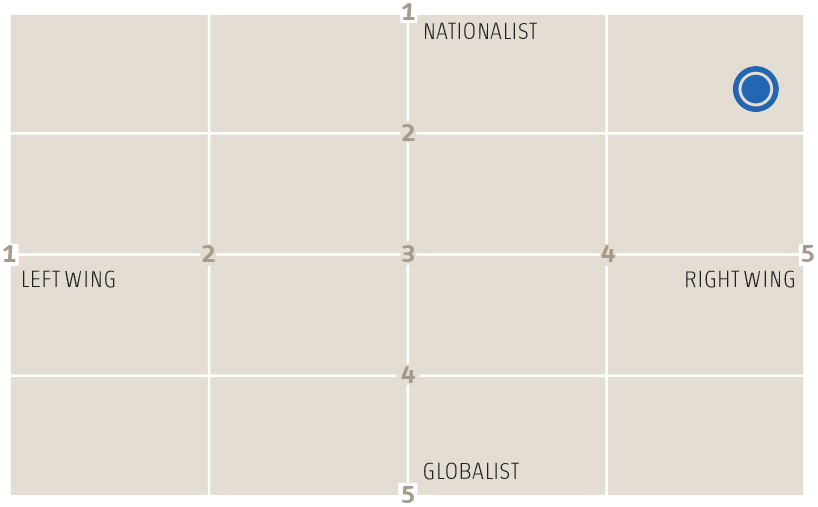 ---
Tags:
Elections 2019
,
Guatemala
,
Jimmy Morales