This piece was updated on June 16
Candidates Gustavo Petro (Pacto Histórico) and Rodolfo Hernández (Independent) will face a runoff election for the Colombian presidency on June 19. Results for the May 29 first round showed Petro with about 40% of votes and Hernández with about 28%.
AQ also asked a dozen nonpartisan experts on Colombia to help us identify where each candidate stands on two spectrums: left wing versus right wing, and nationalist versus globalist. The results are mapped on the charts below. We've published the average response, with a caveat: Platforms evolve, and so do candidates.
Rodolfo Hernández | Gustavo Petro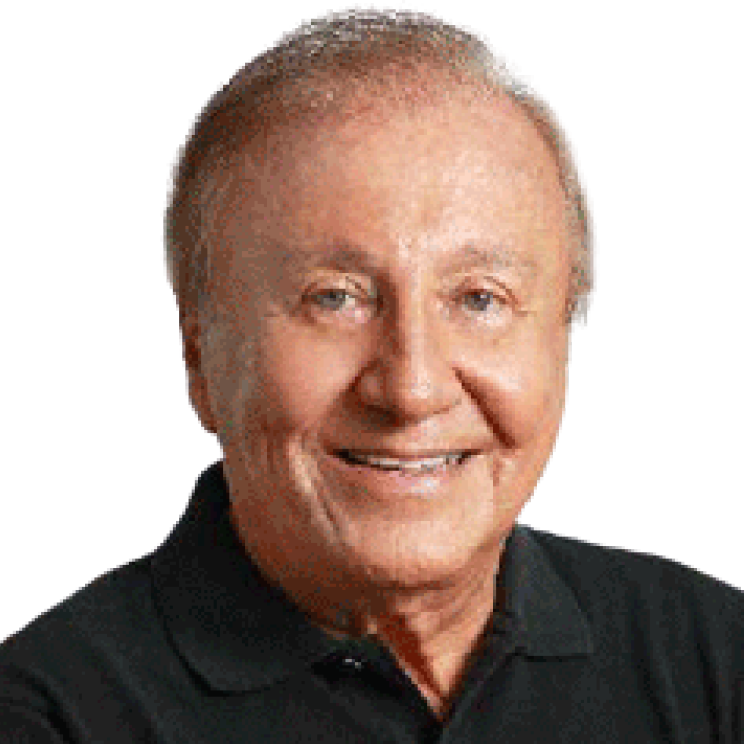 Rodolfo
Hernández
77, former mayor
Independent
"Don't lie, don't steal, and don't betray."
HOW HE GOT HERE
A civil engineer and businessman who specialized in housing construction, Hernández is running for the presidency for the first time. During his 2016-2019 term as the mayor of Bucaramanga, he enjoyed high popularity but also faced two temporary suspensions, one for hitting a city councilor and another for allegedly attempting to influence voters during an election. He has said that he is self-financing his campaign, and is running with the support of the League of Anti-Corruption Leaders, a movement that he created.
WHY HE MIGHT WIN
Hernández's populist, outsider image and slogan of  "Don't rob, don't lie, don't betray, and zero impunity" has resonated with voters. Hernández has pursued an aggressive social media strategy, particularly on TikTok, allowing him to reach younger Colombians. He won an endorsement from Federico Gutiérrez, another former mayor, who was chosen by 24% of voters in the first round on May 29. Hernández will also benefit from widespread anti-Petro sentiment.
WHY HE MIGHT LOSE
Hernández has a history of gaffes and questionable statements that have caused some to question his judgment. In a 2016 radio interview he said he was a follower of Adolf Hitler, but he later apologized, saying he had confused the dictator with Albert Einstein. One leaked audio message recorded Hernández threatening to shoot a client, while another recording captured Hernández allegedly trading the League's support for House candidates for payments and 10% salary cuts if they were elected.
WHO SUPPORTS HIM
Hernández will try to rally a broad anti-Petro coalition, a recipe that has worked in previous elections. Hernández also attracts voters who are critical of traditional politics – his running mate, Marelen Castillo, comes from the academic world. Hernández, who has rejected traditional ideological labels, appeals to the large percentage of Colombians who see corruption as the country's main challenge.
WHAT HE WOULD DO
Hernández has focused his campaign on fighting corruption, which he has described as one of Colombia's main problems, and opposes fracking. He is in favor of reducing VAT to 10% and has proposed eliminating that tax on food. Hernández has made xenophobic comments about Venezuelan migrants in Colombia, and has promised that he would re-establish relations with Venezuela on day one of his administration. Hernández supports gay marriage, which is already legal in Colombia, and adoption by same-sex couples, as well as the legalization of medicinal and recreational marijuana.
IDEOLOGY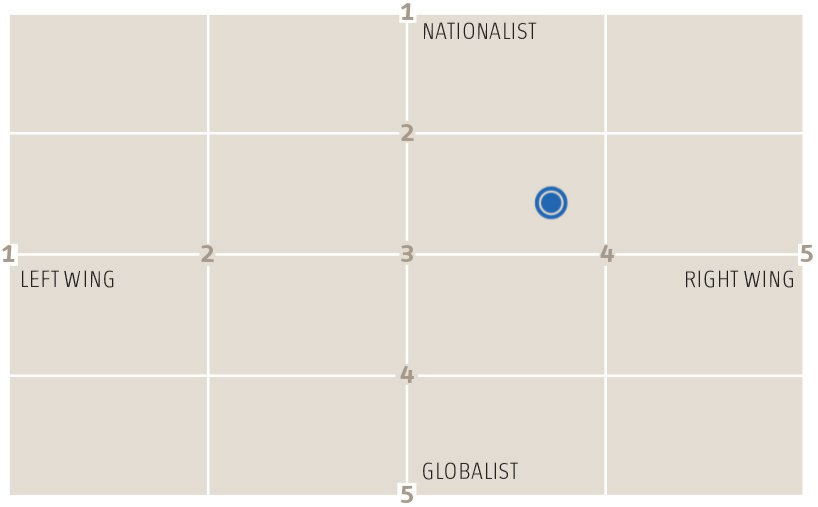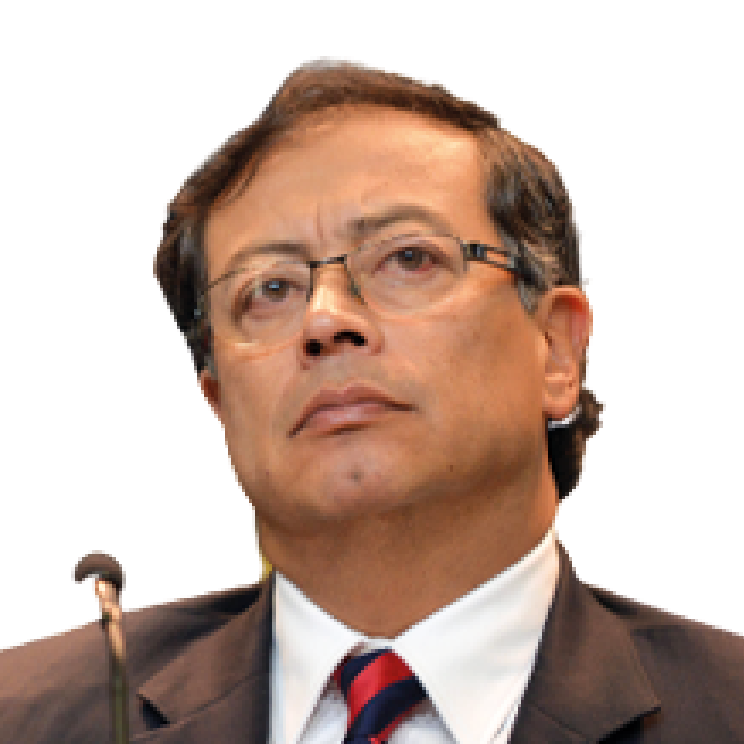 Gustavo
Petro
61, senator
Humane Colombia
"The necessities of Colombian society are not based on building socialism, but on building democracy and peace – period."
HOW HE GOT HERE
Petro is an economist by training and a former M-19 guerrilla who later promoted the group's disarmament. He has served two terms in the lower house of Congress and one in the Senate. Petro was the mayor of Bogotá from 2012 to 2015, though he was temporarily removed from office over his management of the city's trash collection. He received 41% of the votes in the runoff of the 2018 presidential election.
WHY HE MIGHT WIN
With 40% of the vote on the first round, Petro's leftist and anti-establishment stances resonate with voters seeking major change following the pandemic, an economic slump and an unpopular right-wing administration. His second-place finish in 2018 secured him a seat in the Senate, where he has positioned himself as a vocal leader of the opposition. Center-left voters could potentially cast their ballots for Petro rather than Hernández to avoid supporting a candidate perceived by some as on the right.
WHY HE MIGHT LOSE
Petro continues to face suspicions from conservatives that he would emulate Fidel Castro or Hugo Chávez, despite his efforts to distance himself from the Cuban and Venezuelan governments. His economic plans would fundamentally change Colombia's economy. Some Colombians remain skeptical of his past as a guerrilla member.
WHO SUPPORTS HIM
The young, politically active electorate in universities and big cities make up much of Petro's base, while several popular artists have also voiced support for the candidate. His proposed redistributive social policies could appeal to Colombia's lower-income communities. His running mate, environmental activist Francia Márquez, received over 785,000 votes in the Historic Pact primary.
WHAT HE WOULD DO
Petro has said that a continuation of Colombia's neoliberalism will eventually "destroy the country" and has proposed a tax increase on the 4,000 wealthiest Colombians. He is against fracking and plans to halt new oil exploration in an effort to eventually wean the country off of extractive industries and transition away from fossil fuels. Petro has also stated he would support putting President Iván Duque on trial for the violence committed by security forces during the 2021 protests. In March, Petro said that his first act as president would be to declare a state of economic emergency to address widespread hunger. Petro has stated that he is favor of legalizing marijuana. 
IDEOLOGY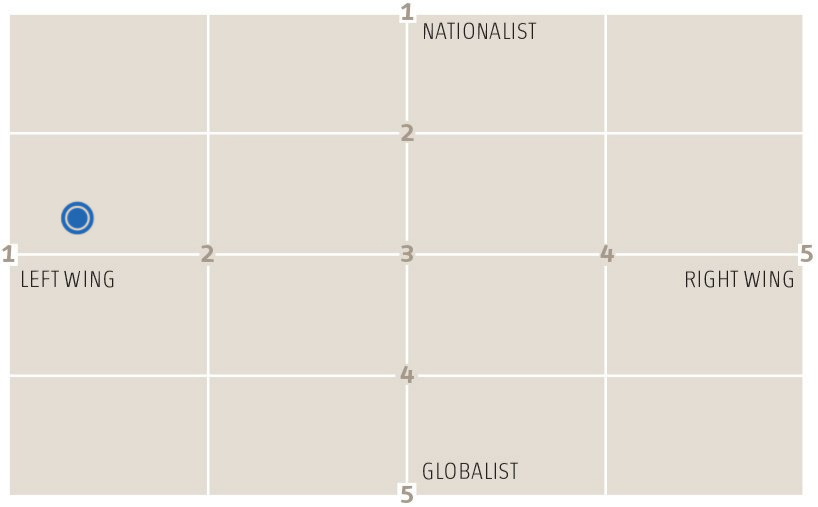 Tags:
Colombia
,
Colombia Presidential Election
,
Elections 2022