Reading Time:
< 1
minute
AQ Presidential Profiles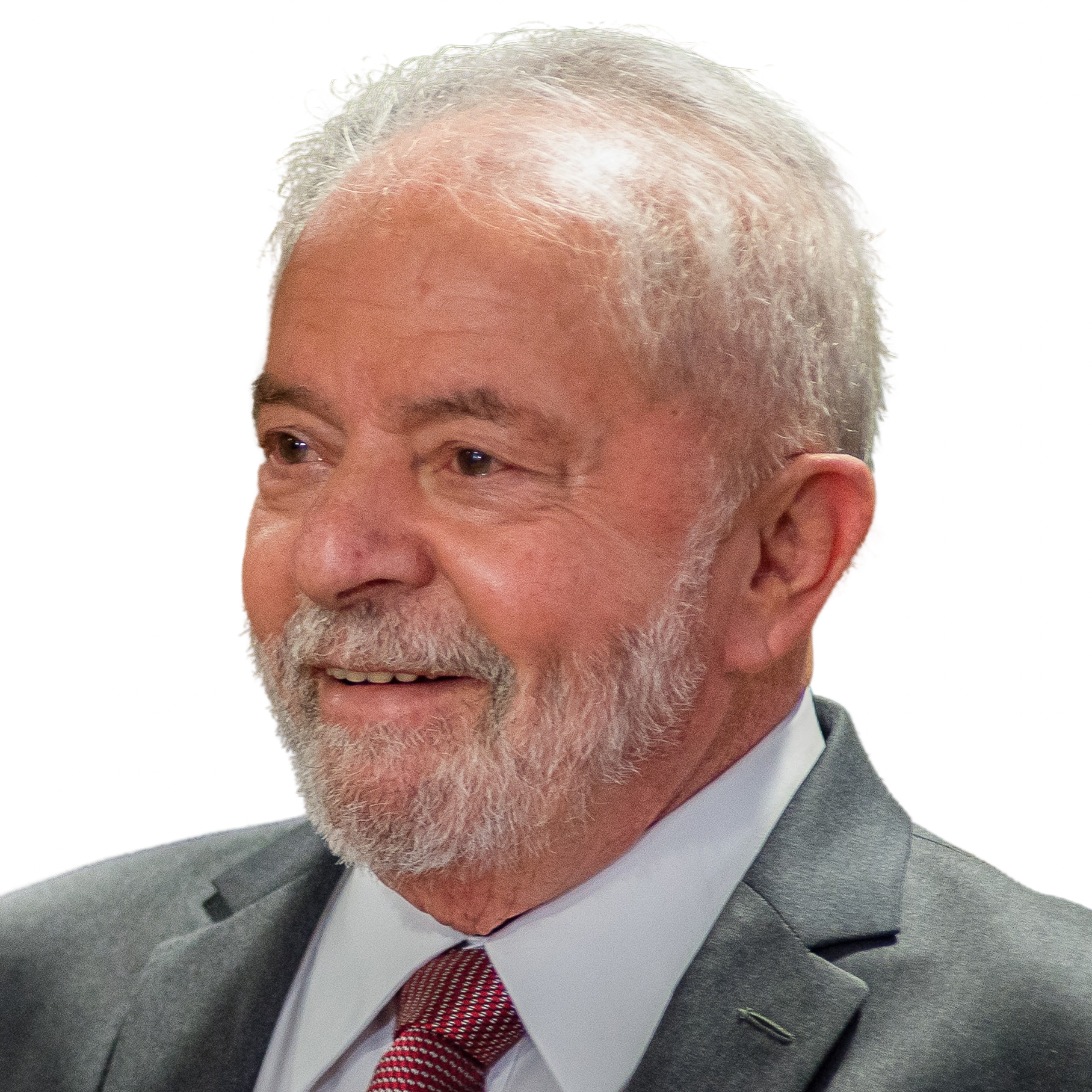 Luiz Inácio Lula da Silva
To facilitate comparisons among these six countries, the data is color-coded: green, high performing; yellow, middle performing; red, low performing.
The CCC Index ranks 15 Latin American countries on their capacity to combat corruption. Lower numbers indicate a higher capacity.
Updated on January 12, 2023
HOW HE GOT HERE
Luiz Inácio Lula da Silva is serving his third and, he says, final term in office following a long career of dramatic highs and lows. His 2003 to 2010 presidency is remembered as one of the most prosperous periods in Brazil's history, as the economy boomed (thanks in part to high commodities prices) and some 35 million people left poverty and entered the middle class. Ensuing years saw a reversal of fortune as Brazil entered its worst recession on record under Lula's hand-picked successor Dilma Rousseff. Lula was convicted and jailed on corruption charges in 2018. Those charges were later annulled by the Supreme Court, Lula's political rights were restored, and he defeated incumbent Jair Bolsonaro in the second round of the 2022 election.
HIS TOP PRIORITIES
As in his two previous terms, Lula's stated priority is to reduce poverty and improve social inclusion. Brazil's poverty rates have increased significantly following COVID-19 and years of subpar economic performance, and the country now has 62.5 million people living on or below the poverty line (defined as families living with $5.50 or less a day). Environmental protection is likely to be a greater focus than in his first presidency, following years of rapid deforestation in the Amazon rainforest that rallied global public opinion. Lula wants Brazil to play a more active role in international forums as well as strengthen relationships regionally and in the global south.
HOW HE WLL HANDLE THE ECONOMY
Lula's post-election comments downplaying the need for fiscal responsibility, and his appointment of Workers' Party stalwart Fernando Haddad as finance minister, disappointed many business leaders who are wary of a repeat of the interventionist policies that sank Brazil's economy in the mid-2010s. However, Haddad has said that he believes "a state with disorganized finances ends up hurting the poorest most" and he has appointed aides with clear market-friendly views. The government will try to fund social initiatives such as Bolsa Família, the cash-transfer program geared at the poorest families, while also encouraging investment from the private sector.
WHO SUPPORTS HIM
Lula won the election on a broad coalition united by its opposition to Bolsonaro. His vice president Geraldo Alckmin, a life-long center-right politician, lost the presidency to Lula in 2006. Other examples of his broad coalition are leftist Guilherme Boulos, leader of Brazil's largest urban housing social movement. Lula's electoral support was heavily concentrated in Brazil's northeast; he lost in all other regions of the country. In Congress, the president has negotiated support from some legislators who previously supported Bolsonaro.
WHO OPPOSES HIM
Brazil remains highly polarized, after Bolsonaro received 49% of votes in the second round, with strong support from the middle and upper classes. Many Bolsonaro supporters, including members of the military police and armed forces, believe Lula's election was illegitimate. On January 8, thousands of the former president's supporters invaded centers of power in Brasília, calling for military intervention. Several former Bolsonaro ministers occupy seats in Congress, and so does former Lava Jato judge Sergio Moro, who sentenced Lula to jail. Lula has also struggled to make inroads in Brazil's sizeable and growing Evangelical Christian community.
IDEOLOGY CONTINUUM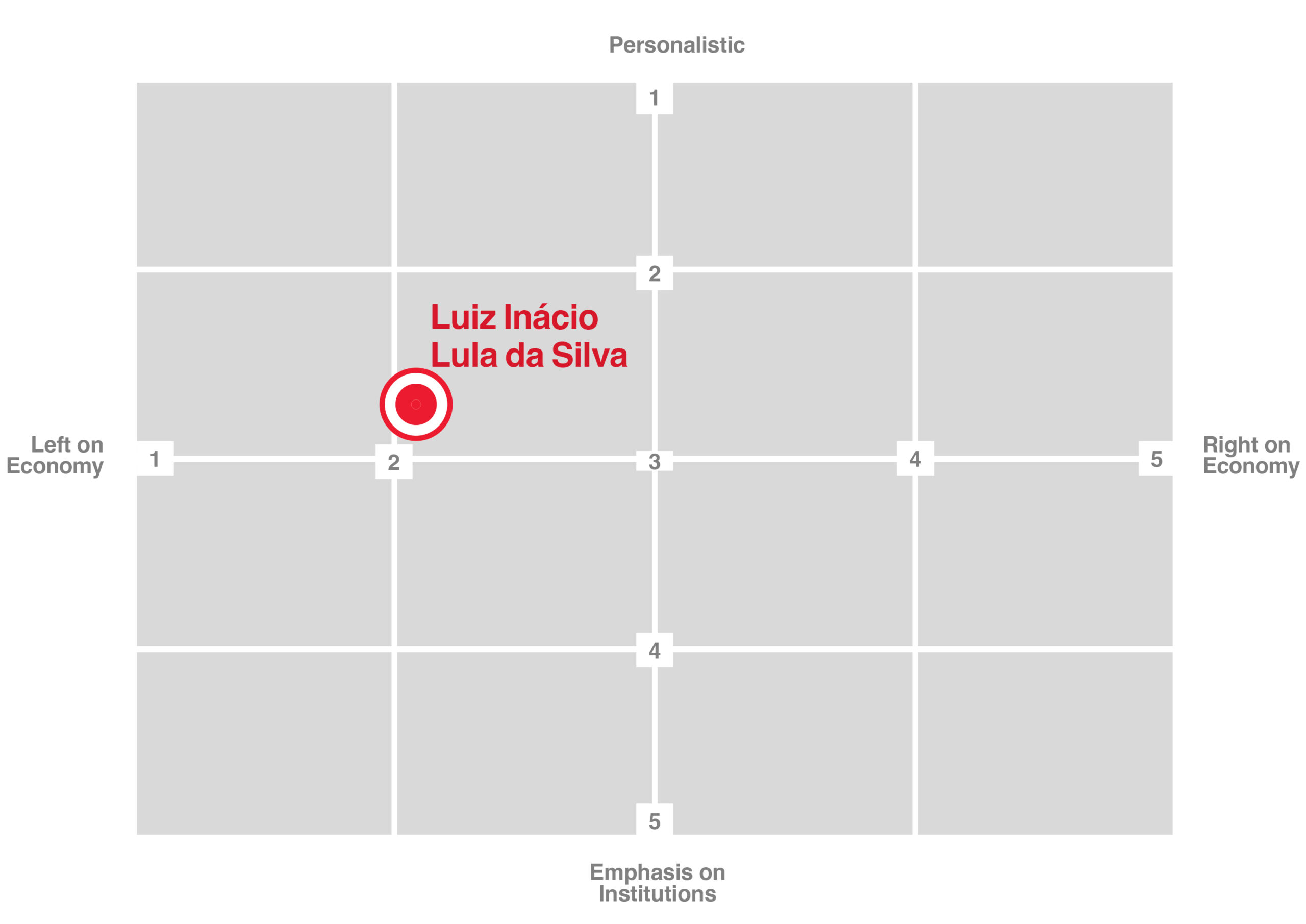 Interactive charts by Lagom Data. Sources: GDP projection: Bloomberg (December); 12-month inflation rate: Instituto Brasileiro de Geografia e Estatística (December); Unemployment rate: Instituto Brasileiro de Geografia e Estatística (October); Labor informality: International Labor Organization (Q3 2022); Education spending: Economic Commission for Latin America and the Caribbean (2022); Homicide rate: InSight Crime (2021); Capacity to Combat Corruption Index: AS/COA and Control Risks (2022)
Tags:
AQ Presidential Profiles
,
Brazil
,
Luiz Inácio Lula da Silva